Whisky Tasting
Posted on 2007/08/18 22:57:34 (August 2007).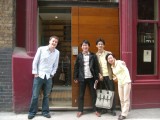 [Saturday 18th August]
Mac-san, a colleague of Chie's, had a friend over from Japan who is really into whisky, and wanted to visit the whisky society today. I was naturally only too happy to oblige! Given that the London member's rooms close at 9 on a Saturday, we had decided to make it more of an afternoon event.

We started off with lunch at The Green in Clerkenwell. I think Mac-san was keen for his friend to try some British food, and this place was fairly close to the society, so worked out rather well.

So the main highlight was then a fairly substantial tasting session at the society. We pretty much had the place to ourselves for most of the time, which was really quite nice actually. We tried a very good cross section of malts, and for once I strayed pretty far from my usual set of Islays, Islands, Campeltowns and Highlands. The barman was really great, just like last time, and helped us to pick out some real gems which all seemed to go down very well with my guests. Particular highlights included a Glenkeith (now very rare), a very enjoyable Clynelish, and some interesting Speysides including a Linkwood and a Dufftown.

We left there just after 4, said our goodbyes, and then Chie and I headed home by way of Sainsbury's. In the evening we had Japanese curry for dinner and then watched March of the Penguins, which was without doubt the best penguin themed feature film I have ever seen.



Post a comment