Karaoke and Okonomiyaki
Posted on 2007/08/13 21:37:40 (August 2007).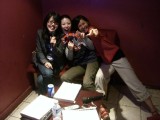 [Saturday 11th August]
Our friend Yukari-san came up to London from Canterbury today for a daytrip, and brought along her friend Eri-san. Together the four of us had planned a very Japanese themed day, with an afternoon's karaoke session, followed by okonomiyaki for dinner.

For the karaoke bit, Yukari-san had picked Karaoke Box on Frith Street, for an altogether more authentically Japanese experience than the other London offerings (such as Lucky Voice, that we went to on my birthday). It was my first time to go to this place, and I found it to be reassuringly grotty - just like many of these types of places are in Japan.

We got there at 2, and Yukari-san had booked us in until 5, meaning we had a whole three hours. I was impressed by how the girls were able to get stuck right in with the singing without any requirement to have a few beers first. All in all it was a lot of fun. The only thing I found a tiny bit disappointing was that there were two separate machines - one for English songs, and one for Japanese songs. I guess most groups that go there just use one or ther other so it isn't really an issue - but given my repertoire of Japanese songs is notable limited we had to switch it back and forth a few times which was a bit of a pain (especially as that meant you couldn't build up a queue of songs on either machine)... but it's a minor point really - and not really Karaoke Box's fault I suppose.

After the singing, we did a very quick spot of shopping at Rice Wine, before heading over to Abeno Too on Great Newport Street. I had been to the other Abeno (near the British Museum) a couple of times before, but this was my first time to visit this branch of the okonomiyaki restaurant. If anything I think I prefer number two over number one - it was really good tonight.

I feel a special mention should be made of our waitress (who also cooked our okonomiyaki for us). I wanted to take a video of her, and show it to all the grumpy, impolite and downright unhappy waiters and waitresses which regrettably fill most of the rest of the UK's restaurants. She never stopped smiling. It wasn't in a cloying, artificial or plain irritating way. It was in an infectiously bubbly way. She was also very efficient, attentive and just all round absolutely great.

The food was also very good too. I went for the "kiso" which in addition to the basic okonomiyaki mix, was topped with shiitake and shimeji mushrooms, lotus root, garlic and cheese. It was probably the best Osaka style okonomiyaki I've ever had (given that Chie is from Hiroshima - the other big okonomiyaki city in Japan, I feel the "Osaka style" qualification here is very important!).

After dinner we headed back in the direction of home, dropping Yukari-san and Eri-san off at Victoria Coach station on the way. As it was still relatively early, Chie to my delight suggested we should round the day off with a drink at the Fox and Hounds, which we had discovered the other day, and had both taken rather a liking too.

A jolly nice day out.



Post a comment