Afternoon Tea at The Orangery and Pimms in Pimlico
Posted on 2007/07/16 21:44:12 (July 2007).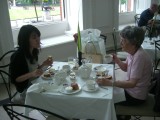 [Sunday 15th July]
Today we went out "shopping" with Vera. I have always rather liked Vera's style of shopping. Within minutes of getting in the first shop she starts thinking about where we can go for a nice sit down and a cup of coffee, and then not long after the coffee break she'll be thinking about where to go for lunch, or a spot of tea.

We started off our day out by getting a bus over to Sloane Square, and there spent a fair while in Peter Jones and the shop next door (General Trading Company?). We did rather well - finally got ourselves a teapot, and also bought a rather nice tall jug which seemed rather perfect for Pimm's. We also had a coffee in the restaurant on the top floor of Peter Jones, from where some nice views out over London are to be had.

After leaving Sloane Square we got on another bus towards High Street Kensington. En route we were entertained by a couple (a man and his mother, I believe) in full (albeit slightly shabby) Proms dress, on the way to the Albert Hall. I would initially have used the word eccentric to describe them, but eventually I began to consider it may actually be a little too light. They were quite possibly clinically insane. The man talked incessantly about the Proms, occasionally bursting into song, at which point his mother would then start attacking him with an umbrella, and he'd then retaliate with some rather uncharitable remarks about the old dear.

Anyway, our main highlight of the day was at Kensington Palace. Robin had recommended the Orangery as a good spot for afternoon tea, and we thought we'd give it a go. It was all rather nice. Having skipped lunch, we got there quite early, which turned out to be a bit of an oversight as afternoon tea service didn't start until 3, but they seemed quite happy for us to just sit and wait at our table in the meantime. The standard Orangery afternoon tea comes in stages, rather than on the classic three tiered plate, but that didn't bother us too much. They started with cucumber and cream cheese sandwiches - surprisingly flavoursome, and then followed with a very fresh fruit scone, which was very good indeed. To finish was a slice of "Orangery Cake", a sort of lemon sponge cake which everyone seemed to enjoy. Even Chie liked this, who is extremely hard to please in this area, and doesn't generally like this very English sort of cake. The actual tea itself was rather noteworthy too - they have Tregothnan tea there (the only tea grown in England). It's the first time I've had it, and I am really quite impressed - it is quite a light tea, extremely refreshing, fragrant without being overpowering, and altogether quite sublime. I'm not sure if it is available in shops yet, but I will certainly be looking out for it.

In terms of the weather, we timed our arrival for afternoon tea quite well - not longer after we got inside the rain came bucketing down, and there was even a bit of thunder and lightning. The grand surrounds of the Orangery made for a rather fantastic setting from which to watch the storm. Tremendous.

We got a taxi from Kensington Palace back to the flat, and I jumped out en route to pop to the supermarket. Having acquired a rather fine jug earlier today, I was keen to give it an inaugural use back in the gardens, and have a round of Pimm's. So I bought all the necessaries - cucumber, lemonade, an orange, strawberries, fresh mint, and of course the Pimm's itself.

So upon my return I knocked up a jug of Pimm's (actually the first time I've ever mixed it myself) and following Robin's advice, used half lemonade and half ginger ale. It was rather splendid. We sat out in the gardens enjoying this wonderfully English drink, and admiring the rather fine new jug it was in as well.

For dinner I'd originally planned to pop out to the Pizza Express just round the corner from our flat, but our fairly long day out had clearly taken its toll on Vera (and Chie!), so instead I went round and picked up a couple of takeaway pizzas to have at home. They were very efficient, and actually this made for rather a nice meal still.

So, all in all a splendid day in London with Vera and Chie.



Comment 1
John you should mix your own pimms, the stuff in the bottles is horriable in comparison.

Posted by Dwain at 2007/07/17 12:54:25.
Comment 2
What exactly is Pimm's made of? On Wikipedia it says the recipe is a secret, but it sounds like an interesting quaff...

Posted by Bryan at 2007/07/17 13:07:38.
Comment 3
Nice one! I have never had Pimms, must try next time I come to Albion!

Posted by Lox at 2007/07/17 14:20:23.
Comment 4
Dawin: I'm a bit confused - I thought I was mixing my own Pimm's...?

Posted by John at 2007/07/17 15:02:54.
Comment 5
Red Vermouth 50%
Gin or Vodka 40%
Cointreau 10%

Personally I perfer the gin based but some prefer the Vodka.

Obiously you then add lemonade to the base.

This is my fathers mix, to quote him what you do is mix the base add the fruit and then the lemonade, throw it all away and then pour yourself a decent Scotch - he reccomends Mortlack.

Posted by Dwain at 2007/07/17 16:11:52.
Comment 6
Dwain: I laughed for a good 5 minutes after reading the end bit... I was really puzzled where the Pimms would come into play in that recipe, then the old "father"'s wisdom did the trick! :D

Posted by Lox at 2007/07/17 21:19:17.
Comment 7
John its a recipe for Pimms, give it a go you'll prefer it to the horrible stuff from the bottle.

Yeah my old mans a big Whisky drinker.

Posted by Dwain at 2007/07/18 00:41:47.
Comment 8
Dwain/John: How much lemonade is added to the base - is it a case of "add lemonade to taste"? Sounds like quite a nice drink to have in a heatwave like we have been having in Greece these days :-)

Posted by Bryan at 2007/07/18 13:46:20.
Comment 9
The bottle recommends 1 part of the alcoholic stuff to 3 parts lemonade. I like using half and half ginger ale and lemonade instead.

Posted by John at 2007/07/18 20:33:36.
Comment 10
Will have to give that a go :-)

Posted by Bryan at 2007/07/18 21:56:17.
Comment 11
-1'

Posted by 1 at 2013/04/16 20:08:31.