Satterleigh
Posted on 2007/06/04 22:32:14 (June 2007).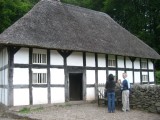 [Sunday 3rd June]
Another day spent with Vera and Robin in South Wales. The main event was a visit to St Fagans - the Welsh heritage centre. It is basically an outdoor museum of Welsh buildings - buildings that were threatened with demolition in their original location, and so have been dismantled and rebuilt here. There are some really charming little cottages and farmhouses there, as hopefully the pictures attest, however I suspect I was supposed to go away with an image of the terribly hard existence that the rural folk of Wales have faced in the past.

It gave me a good opportunity to take my lovely new tweed cap out for a walk, in an appropriately (albeit slightly artificial) rural setting.

On the way back to Abergavenny, we stopped off for a quick drink at the Bell Inn, Caerleon. At the risk of wearing out the word "charming", this too was, well, charming.

Had dinner back at Vera and Robin's house - pies, roast potatoes and an assortment of vegetables - all very nice.

I spent a large part of this weekend feeling tired, but not the sort of exhausted and fairly stressed sort of tired I'd been in the week - a sort of tiredness it seems one can only get in the countryside, following a nice day out and plenty of fresh air. In Meaning of Liff style, given that I'm not aware of a word for this pleasant form of fatigue, I shall henceforth name this sensation Satterleigh.



Comment 1
Vera is looking splendid send her my best regards. As for the hat, I can only say that it makes you look like a Sinn Fein activist (not to say IRA).

Posted by Lox at 2007/06/05 00:30:04.
Comment 2
Yes she does look well doesn't she? Can you believe she will be 88 in August?

As for the hat, I wasn't intentionally aiming for the look you describe!

Posted by John at 2007/06/05 10:34:05.