Boxes but no Internet Connection
Posted on 2007/03/03 11:51:30 (March 2007).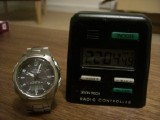 [Tuesday 27th February]
Two major events today - first of all the boxes we had shipped over from Japan arrived, which was jolly nice. Nippon Express had given us a half hour delivery window (why can't British companies ever manage that?) and whilst strictly speaking they were about 5 minutes beyond it, I had given them my address in a slightly confusing manner, so I am more than willing to forgive them for this minor transgression. The standard of service really was excellent, the delivery guy was Japanese, and behaved just like delivery men in Japan - he was super polite, took his shoes off before coming into our flat, and seemed quite happy to take the boxes to wherever we wanted them. Great.

The other event was a non event really - we didn't get out Internet connection as I'd hoped. That was a failure on the part of a British company then. I felt very let down, and I suspect Chie was secretly a bit smug about it. A definite score of Japan 1, England 0.

Trying to setup an internet connection has been something of a high priority activity for the new flat - over and above the telephone or the television. We seemed to broadly have two choices - the phone line / ADSL route or the cable broadband route. As the building was already wired up for cable I'd (perhaps ill advisedly) decided that might be quicker and easier.

NTL appear to have been recently subsumed into Virgin Media, which gave me some sense of optimisim for a turnaround in their famously bad customer service. I think I may have been a little too hopeful here. I'd phoned up and ordered broadband last Friday, and was told we would be using it by today. That didn't happen - instead yesterday we'd received a confusing letter saying our installation date was a day earlier than I'd been originally told, and they'd be coming to install it at, errr, midnight. That didn't seem right. Either way, Chie had been in pretty much constantly for the last couple of days, and no-one had been to try and install anything.

So I phoned up trying to work out what was going on, and it turns out they didn't have a clue either - I kept getting passed from department to department, each time having to explain my situation again in full, until eventually I got to a guy who told me he didn't know where to transfer me to any more. I kept getting told it wasn't the right deparment for my area, and "they couldn't get me up on the system". I couldn't help but wonder in this age of computers and networks why the area I was in should matter at all.

Eventually (the following day) it turned out there was a completely different number I was supposed to phone because of where I lived - why they couldn't just put something on "the system" to point customers to that number straight away after hearing their postcode I don't know.

Other than all that frustration, the only other news is that Chie bought some pots and pans, so for the first time I could cook us a proper meal at the flat, which was nice.



Comment 1
I know not very much about all these telco companies, but I thought NTL was attached to Microsoft somehow. Clearly not true if they are now part of Virgin.. Hmmm. Don't ever ask me for any business advice.... ;)

Posted by Nigel at 2007/03/03 23:37:23.
Comment 2
The call center ordeal is quite similar to the one that I am living in Italy with Tiscali. Mind you it's not their fault but shitty Telecom Italia who the proprietor of the landline, so any damage on the actual cable (as it appears to be my case) must be handled by them... It's sooooo stupid, and worst, it's not working!

Posted by Lox at 2007/03/04 10:28:39.
Post a comment