Les Immeubles Francaises
Posted on 2007/01/05 13:26:24 (January 2007).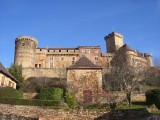 [Wednesday 3rd January]
Spent the day out travelling around assorted villages and chateaux. What I've been struck with most about this part of France is the very eye catching architecture. I'm not very learned in this field, so I'm not going to try and wax lyrical about the melange of venacular and non-venacular styles, instead I would direct you to the pictures for today and recommend you see for yourself. The pictures are pretty much all of buildings, and very nice they all were too.



Comment 1
Hi Dr. John Hawkins - are you really related to Reg Ramsbottom? - I see on your family tree you have no details of his ancestry. If it's the same guy (my Granddad married Barbara in Australia) I have quite some detail of him. Let me know if you're interested. Cheers.

Posted by John Moore at 2007/01/05 16:26:26.
Comment 2
Gorgeous pics, John! I didn't know such picturesque places still existed!!! I must definitely go and visit the area. Next summer, perhaps

Posted by Sheri at 2007/01/05 17:11:10.
Comment 3
WOW Great pictures, I can't believe the view is so nice over here in France! I have a question for your mum, is that coat made with silk? It looks really nice even though it's a small pic... (the one with the dog)

Posted by Lox at 2007/01/05 17:24:13.
Comment 4
Lovely villages! Very picturesque. That light coloured limestone is beautiful (when dry) and against a backdrop of a blue sky! :)

Posted by Nigel at 2007/01/05 20:03:49.