Tuesday in the Dordogne
Posted on 2007/01/04 17:43:24 (January 2007).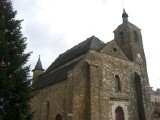 [Tuesday 2nd January]
Today was my first full day in the Dordogne, and also the first time to see any of it in daylight. I was reminded slightly of the way Lorenzo would always underplay restaurants in Italy, and then they'd turn out to be excellent. Mum had told me the actual village she was staying in - a place called Vayrac - wasn't much to look at - but I found it to be really quite picturesque. Maybe I'd just been architecturally starved as a result of spending a year-and-a-bit in Tokyo.

We went for a bit of an outing in the morning, and visited the nearby village of Bretenoux, which was quite charming - especially the main square. After this we visited a supermarché (good old E. Leclerc) and went back to the house for a very nice salady sort of lunch. The afternoon was very relaxed, just a wander round Vayrac. For dinner I knocked up a simple ratatouille with excellent local produce, served with potatoes Dauphinois.

It's a shame Chie is back in Japan, I have a feeling she'd really like it here. Still, now we're back in Europe again we ought to have plenty of oppprtunities to visit these kinds of places.



Comment 1
Actually those restaurants where we went WERE quite average! I am waiting for you to show you the real deal! Looks nice from the pictures though, although as you correctly pointed out, 1 year of Tokyo makes Reading look beautiful.

Posted by Lox at 2007/01/04 19:35:10.
Comment 2
Interesting architectural designs in the village. Hmmmm... I have to get out more... :|

Posted by Nigel at 2007/01/04 20:31:58.