Down to the Dordogne
Posted on 2007/01/03 14:31:13 (January 2007).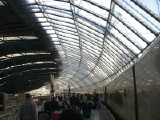 [Monday 1st January]
In the last couple of years my Mother has developed somewhat migratory instincts, spending her winters down in the Dordogne. I'd only had the chance to see her very briefly in Guildford when we'd first arrived back in the UK a couple of weeks prior, so I'd determined before starting the new job I ought to make time for a proper visit and go down to France to see her.

As regular readers of this blog may well be aware, I really hate flying, so had instead made plans to travel across a fairly sizeable chunk of the biggest country in Europe by train. Whilst some may consider this as a little daft, I saw it as an adventure.

So I left Simon's house just before 9, and got on a train to London Waterloo. I was there by about 10:30 - much earlier than I needed to be - but I didn't really have a great deal of trust in the UK rail network on the morning after New Year's Eve, so wanted to leave plenty of time for any potential mishaps (i.e. drivers not turning up for work on account of terrible hangovers, or perhaps worse still drivers actually turning up for work with terrible hangovers).

I passed the time in Waterloo with a jolly nice cheese and mushroom pasty. Surprisingly this was not from my favourite West Cornwall Pasty Co, but some other company whose name escapes me. I also finally managed to spend the last of those bloody WH Smiths vouchers I'd been given as a leaving present from the company-before-last, getting on for two years ago. I'd spent most of the intervening time in Japan where funnily enough they don't have WH Smiths.

Anyway, I got on the Eurostar around midday, and from then on started to make serious progress on my journey. The leg from London to Paris passed fairly uneventfully, I was entertained as usual by my iPod, and also less usually I had a magazine to read - something about Macs which actually turned out to be a bit naff. Despite being really into the whole Mac thing recently, I find publications which use every almost other page to bang on and on about how much better Macs are (than Windows machines) a bit tiresome.

By 4PM French time I was in Paris, and after scratching my head for a considerable amount of time at the hideous Paris Metro map I finally worked out which line I needed for my transfer to Gare D'Austerlitz, and off I went. For reference, from Gare Du Nord you need the orange coloured line (in the direction of Place D'Italie, I think).

Pleasingly it was just one more train from there to Brive-la-Gaillarde, the biggest station nearby where Mum is staying. It was a nice modern TGV type train, with very pleasant seating and hardly anyone on board. Very cheap too - so France is now yet another country which makes me think of my own country's rail network with embarassment. This train left Paris at 5:30, and amazingly only stopped at one other station (Limoges), and so I was at my destination by 9:30, where Mum and Keith were waiting to pick me up.

From there it was about a 35 minute drive to the village where they were staying. I was naturally quite tired after the long journey, so after a quick snack it was bedtime for me.



Comment 1
I instantly thought of "Michael Palin" while reading this entry, John! Must be the train thing!

Hmmm, I know what you mean about the Mac mags. Also they seem to be printed on super-thick, super-glossy paper, making then heavy and sharp! I have settled on a favourite (are we allowed to mention names?) but still feel it's a bit pompous for it's own good :(

Posted by Nigel at 2007/01/03 20:49:55.
Comment 2
I agree on the Mac Mag front too! We KNOW that Macs are easier to use, friendlier etc. That's why we bought them. Now, tell us what we can do with 'em.

Posted by tom at 2007/01/04 13:27:02.
Comment 3
For reference, the one I was reading was called iCreate. It wasn't at a particularly deep technical level, but was pretty "Mac uber alles". Also it seemed to cost a senseless £6 - lucky I used those bloody WH Smiths vouchers!

Posted by John at 2007/01/04 17:33:45.
Comment 4
Yes, i feel iCreate is a bit OTT. I bought one but don't buy regularly. They always seem to offer some tip on using one of the iLife apps then say "Step Up to ..." and waffle on about some software I for one can't justify buying. The mag I prefer (since I'm going the whole hog now!) is MacWorld. A good CD and relatively balanced approach. Almost... :)

Posted by Nigel at 2007/01/04 20:16:50.