Cardiff
Posted on 2007/01/03 14:26:15 (January 2007).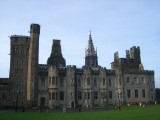 [Thursday 28th December]
So we were back in South Wales today, staying at Vera and Robin's down in Abergavenny again. Chie had decided she would quite like to go and visit Cardiff, particularly the bay area, which she hadn't yet seen since all the redevelopment around there. So we got a lift down to Newport with Robin on his way in to work, and from there got the train to the Welsh capital.

We spent the first bit of the day in the centre, with a quick visit to the market, then a tour of the Castle. Around midday we headed over to the bay, and as we were both quite peckish we made lunch our first port of call on arrival. We chose Bosphorus, a Turkish restaurant, and it was very good. After lunch we took a bit more of a wander round the bay, including a quick ice cream from Cadwallader's, before heading back into the centre. We didn't do a lot else really, just a bit of shopping in the afternoon, and then headed back to Newport around 4.

We met Robin at the museum where he works, and he took us on a bit of a tour. One of the highlights for me were some engineer's diagrams of the famous (?) Newport Transporter Bridge - I may have alluded several times before that I'm a bit of a closet bridge geek. This is based on the premise of wondering what I would do for a job if I'd been born one hundred years earlier (i.e. before computers) - and probably the equivalent technical challenges of the day were things like bridge building.

On the way back to Abergavenny Robin took us by way of the transporter bridge, which is rather superbly lit up by night. Marvellous. Apparently Robin is quite closely involved with the bridge from a museum point of view, and I found out he had designed the plaque which sits by it. I felt rather proud by association to have a member of my family somehow involved, as this is a very unique type of bridge, there are less than ten in the world.



Comment 1
Ahh!! Big Engineering, eh? Well, reading this entry reminded me of a structure just down the road from Joc's parents in Cheshire - http://en.wikipedia.org/wiki/Anderton_Boat_Lift (Using wikipedia like this, am I allowed to state, as per that Get A Mac advert "Touché"? :)))

Posted by Nigel at 2007/01/03 20:59:16.
Post a comment