Christmas Day
Posted on 2006/12/26 18:40:39 (December 2006).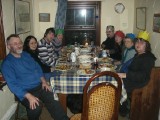 [Monday 25th December]
A very nice Christmas day spent surrounded by family at my Dad's house in North Wales. The morning was occupied with the usual phone calls to family members who weren't there, and then the obligatory present opening ceremony.

We had a light lunch as we were having the main meal of the day at dinner time and then went out for a bit of a walk in the afternoon to build up an appetite.

Dinner was of course the usual feast, the carnivores had goose, and I knocked up some baked mushrooms for myself which were jolly nice.



Comment 1
I am happy to see all the family there! Please if they are still there, give a big hug to Vera and a supadupa Hello to your dad!

Posted by Lox at 2006/12/26 19:45:23.
Comment 2
Now you see, I've been wanting a Google t-shirt for some time :)

Posted by Nigel at 2006/12/26 22:49:35.
Comment 3
I'll see what I can do Nigel. :)

Posted by John at 2006/12/27 10:06:41.