Back to the UK
Posted on 2006/12/22 17:39:34 (December 2006).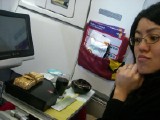 [Monday 18th December]
Our flight to London was scheduled for midday, and as we'd stayed in an airport hotel it meant we had a fairly leisurely start to the morning. We check out of our hotel just after 9, got on the little shuttle bus to the aiport, and were all checked in and past security/immigration/etc by about 10:30. This was nice as it meant we could spend a while waiting in the NorthWest lounge (good old gold card).

We flew with Virgin this time, and I think on balance they're probably my favourite carrier for going between Japan and Europe. The flight was a bit late leaving Tokyo but somehow they managed to make the time up en route (how do they do that?). I watched a few films and TV shows during the flight, the highligh for me was a show called "That Mitchell and Webb Look", which I hadn't heard of before. It's those two guys from Peep Show, which I'd also found oddly rather entertaining.

We landed in Heathrow just before 4, and no great delays were encounterd during immigration / baggage reclaim / customs, so we were able to get out of the airport relatively quickly (although we did have to wait quite a while because of a broken elevator). So we got on a coach to Woking, and from there a taxi to my brother's house in Guildford.

This worked out brilliantly, as my Mum was stopping off there en route to France. So for a couple of hours at least we had a big family gathering - me, Chie, Mum, Keith, Adrian, Liz, William, Katie and Daniel. Much better to arrive back in your homeland to this sort of thing rather than an impersonal hotel.



Comment 1
Looks like everything worked out fine! I am happy that the return was painless, I am sure you have shitloads things to think about now, but at least the move is done! GOOD JOB John&Chie!

Posted by Lox at 2006/12/22 18:20:28.
Comment 2
Well that's the culmination of one heck of a lot of action in a relatively short period!! 10/10 for stamina!!! I would have flagged seriously...


Posted by Nigel at 2006/12/22 22:31:43.
Comment 3
Nigel: it's our own fault really - if we'd been better organised we could have spread it all out over a longer period, but regrettably I'm just one of those leave-it-all-to-the-last-minute people.

Posted by John at 2006/12/23 14:41:33.