Asakusa
Posted on 2006/12/22 17:35:23 (December 2006).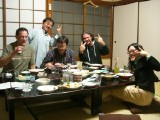 [Tuesday 12th December]
My manager was over from the US for a very short trip, along with fellow Englishman Tim who was staying the whole week. So the daytime at work was the usual round of meetings, also with a big team lunch in the middle of the day.

As tonight was my boss's last night in Tokyo, and Tim was keen to see a more traditional side of Japan, we had decided a trip to Asakusa was in order.

Originally I'd planned a visit to the famous temple in Asakusa (Sensoji) followed by some Denki-Buran in Kamiya Bar, then a Super Dry at the bar at the top of the Asahi world HQ, and then finishing up with a meal at Kobayashi-san's (Tanaka-san's friend) restaurant.

The first part of the evening wasn't a huge success though, Sensoji seems to be almost deserted at nighttime, and though I'm suprised to hear myself say it, somehow it loses its charm without all the tourists and the shops and everything. After this another disappointment as it seems Kamiya Bar is closed on Tuesdays.

From then on though things went a bit more smoothly - the Asahi HQ bar was open as usual (although we were basically the only customers), and the golden turd produced the expected level of mirth among our guests.

After this we then headed on to Kobayashi-san's restaurant, which, incidentally, was recently featured on TV. It is in a district of Asakusa famous for having lots of Ryoutei - traditional (and very expensive) Japanese restaurants, complete with Geisha and everything. Kobayashi-san's restaurant, whilst not a full blown Ryoutei, is very traditional and does get the occasional passing Geisha as customers (I think they go there at the end of their shift or something).

Whilst there were no Geisha in the restaurant itself tonight (there were on my previous visit), I was pleased at least that my guests did see a few milling around outside - so another item checked on the foreign tourist's check list of traditional Japanese things.

Whilst the majority of our group headed home after leaving Kobayashi-san's restaurant, me, Tim and the boss decided instead to make one final stop off in Shinjuku. My boss has a favourite karaoke bar in Shinjuku, to which we've often been, and this was probably going to be the last time we'd go together. So we rattled off all the old standards - Piano Man, that song by the Proclaimers, and so on.

It turned into something of a late one for a school night, I think we left the bar around 3AM, and walked back to the hotel where Tim and my manager were staying. As the boss would be flying back the next morning, we said our goodbyes in the hotel lobby, and it was oddly a slightly emotional incident. For all the woes of this job, I'd actually got on really well with my manager, we'd had lots of long meandering chats about life, the universe and everything, and I was genuinely quite sad to see that come to an end.

I got a taxi back home from there, but unusually I didn't go through the usual routine of trying to practice my Japanese with the taxi driver. Maybe it was because I'd been picked up at a big international hotel, I don't know, but I'd just decided for once I wanted to pretend I could only speak English.



Post a comment