The Day After
Posted on 2006/12/14 05:43:37 (December 2006).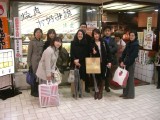 [Saturday 9th December]
A number our friends had stayed on for today, so in a very low key way the wedding celebrations continued to rumble on. We got up at a fairly respectable time, and had breakfast with some of our other guests who had stayed at the same hotel. This morning after breakfast concept has been a feature of a few weddings I've been to and I rather like it.

After breakfast Chie took her friends out on a bit of a guided tour of Hiroshima whilst I popped back to her family's place to get changed and drop some things off. I was back in the city centre around midday, and headed over to the Gennbaku Dome (a famous building which partially survived the atomic bomb blast) where I met up with Tanaka-san. We didn't spend long there, but this brief moment in front of this important historic landmark seemed quite poignant somehow.

From there, we met up with Chie and her friends and went for lunch. Being in Hiroshima there was of course one very obvious choice - okonomiyaki. Hiroshima okonomiyaki are quite different to the other commen style in Japan (from Osaka). The Osaka ones are basically sort of pancakes, whereas the Hiroshima ones are somewhat more complex, involving several layers and including soba (noodles).

Tanaka-san was flying back to Tokyo in the afternoon, so after lunch we parted off from the rest of the group to go for a final quick chat over a coffee - a sort of debriefing session for the wedding I suppose. I was really grateful that Tanaka-san had been able to come - not just because of his excellent piano playing (which had also enabled me to do my song at the reception) but also because we'd had many long chats about life, the universe and everything over the last year or so and it was very reassuring to have somebody there who understood the inside of my head, if you know what I mean.

I met back up with Chie again a little later on in the afternoon, and the two of us wiled away an hour or two in another café, just sitting and watching the world go by, and talking about how nice the previous day had been. The plan is to have another ceremony when we're back in the UK, and I have to admit to occasionally waivering in that notion over the last few weeks given all the effort involved in organising this one. However, having now actually had the wedding, the opportunity to do it again is genuinely quite appealing.

The final, final wedding related celebration (albeit by now somewhat tenuous) was held in the evening - we went out for dinner with two of Chie's friends who were still hanging on in Hiroshima, and one friend who hadn't been able to make it for the day itself, but had come the next day to see Chie. So the five of us went to an Italian restaurant in the centre of Hiroshima called Monte Tina (I'm transliterating from katakana there, so I may have spelt that wrong). Chie and I had been there a few times before, and the food was rather nice as always.

We had planned to have an early night tonight as we were obviously a bit tired following the big day yesterday, but the conversation and wine kept flowing at the restaurant, and in the end it was getting on for midnight by the time we got back to Chie's family's house.



Comment 1
I had no idea anything survived the horrors of WWII at all. Indeed that shell of a building is tear-jerkingly poignant...:(

Posted by Nigel at 2006/12/14 07:24:58.
Post a comment