Busy Sunday
Posted on 2006/12/05 02:42:21 (December 2006).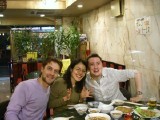 [Sunday 3rd December]
There were several items on the TODO list for today:

1) Only a few days left until the wedding now (this coming Friday!) and so a haircut was very much a requirement. I went to the usual place, very close to our apartment (I've always been too lazy to look for anywhere else). I think it was my seventh time to get my hair cut there, it's always the same guy, and so we've sort of got to know each other a bit - in that slightly superficial way you do with people who cut your hair. I told him today that this would be my last visit as I was going back to the UK, given that it was a bit far to come from London for a haircut. He seemed to agree that this was reasonable. I'm not going to say it was a particularly sad occasion or anything, but, you know it is always a bit weird when you say goodbye to someone you know (even superficially) on the basis that, realistically, you'll probably never see them again.

2) That done, I headed over to TK's house near Yokohama to spend the afternoon there. The main reason was to practice the song that I've somewhat foolhardily decided to sing at the wedding. I know I'm never going to be any good at singing, but I think after a number of rehearsals we managed to get it to at least passable. TK of course does an excellent job on the piano, compensating for my vocal inadequacies. The other reason for the visit was to see TK's family - apparently his little boy had been asking when I was going to go and see them all again. Unlike the guy who cuts my hair, I am confident I'll see TK again after I return to the UK, and hopefully his family too.

3) After leaving Yokohama around 5ish, I headed back into Tokyo and over to Ikebukuro, where I met up with Chie and Lorenzo for a bit of an evening out. It was, of course, the absolutely standard course - dinner at Rohlan followed by a few choice malts at Quercus. Both places were excellent as ever!



Comment 1
Two things: Nice to see the inside of Rohlan and you all together. Lox looks pooped!

As for the light fitting... I'm stunned! I don't expect to see this sort of thing in Japan at all!!!

Posted by Nigel at 2006/12/05 07:07:15.
Comment 2
Nigel: As in "I defecated in my pants" or does pooped has a different meaning?

Posted by Lox at 2006/12/05 08:49:28.
Comment 3
Hehe, that made me laugh out loud Lox :)

Posted by Kev at 2006/12/05 14:00:22.
Comment 4
Lox: Ha-ha!! Oh dear!!! Yes, "pooped" *does* mean something else! In this context it means just "tired".

Dash tricky this English language!! :(

Posted by Nigel at 2006/12/05 14:01:06.
Comment 5
I didn't really notice it at the time, but looking at those pictures there is a bit of a dazed look in Lorenzo's expression. Maybe a delayed reaction of the jetlag?

Posted by John at 2006/12/05 14:23:30.
Comment 6
Maybe you use "pooped" as after an "effort" in the toiled one feels tired?

Posted by Lox at 2006/12/05 14:53:40.