Pre Wedding Party
Posted on 2006/10/15 08:12:28 (October 2006).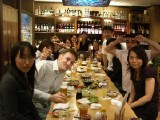 [Saturday 14th October]
Upon hearing that Chie and I were planning a wedding for December, as a really nice gesture several of Chie's friends got together to organise a bit of a party to celebrate in advance. So tonight we went over to an area of Tokyo near Akihabara for a bit of a celebratory evening out.

The first place we went to was an Okinawan style izakaya - a highlight for me being that they had Orion Beer on draught (normally in Tokyo you only get this in cans). There were about 12 people in the group which was a really good turn out - some of the people I knew really well, some I hadn't met before.

One particular highlight was seeing Chie's friend Tomochan - we used to see her a lot when I lived in London back in 2000/2001, but have hardly seen her at all since then. It was great to see that in the intervening years she hadn't changed much at all - still as eccentric as she ever was.

The second place we went to was a slightly upmarket bar, which specialised in Guinness and whiskies (although wasn't exactly an Irish pub). Here the drinks and conversation continued to flow.

As a few people had trains to catch, we left that second place just before midnight. However, the evening didn't stop there - me, Chie and three of her friends all went back to Sasazuka together (the area around where we live) and went to one more izakaya there. I'm always impressed by how late places open in Japan - so long as you're in the right sort of area of a reasonable city, you don't struggle to find a drink after midnight. In fact this izakaya was still serving food as well, so we had a few unusual late night treats including the rather novel tomato tempura.

I think we must have left that place around 3AM, I left slightly earlier to go and do a quick emergency tidy up of the flat as a couple of Chie's friends were going to be staying over.

Anyway, a very nice night out.



Comment 1
I am really, really worrying about your liver, whilst envying your stamina.

Posted by Mum at 2006/10/15 10:08:10.
Comment 2
A nice, big night out... Oh how I miss them!!! :))

Now I know, as your meal was vegetarian, there was no meat involved, but I would just like to confirm... That's not a dead bluebottle in the middle of the tomato tempura, now is it? Good! :))

Posted by Nigel at 2006/10/15 17:15:59.
Comment 3
The tomato tempura looks awful but the rest of the night was rather interesting (or at least it seems that way)..

Posted by Lox at 2006/10/15 20:00:34.
Comment 4
Good job you have two livers then eh John ?

Posted by Kev at 2006/10/16 14:06:26.