Fuji
Posted on 2006/10/09 14:04:49 (October 2006).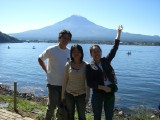 [Monday 9th October]
Today was a national holiday here in Japan (there seem to be quite a lot of these). So Chie and I had arranged to go for a day out with Yuka-chan, and Tanaka-kun. Tanaka-kun very kindly offered us his services as a chauffeur for the day, which gave us a different range of options to the usual places we could get to by train.

Somehow or other we settled on going to take a look at Mt. Fuji. Neither I nor Chie had ever really seen it properly before - only brief glimpses from the shinkansen, or as a dimly visible blob on the skyline from tall buildings in Tokyo. Today though the sky was wonderfully clear and blue, and we made absolutely sure that we could get a good look by driving right up to it. Well I say right up to it, we were probably still a good few miles from the base, but wherever we looked today it seemed to dominate the skyline.

We also visited some caves in the vicinity - we seem to be having a bit of a run of caves recently - but the main attraction was of course Japan's iconic mountain.

It is very, very big. Possibly for someone coming from a country like Tibet or Nepal it might not make such a great impression.... but for one who hails from England's green and pleasant (and above all flat) land Fuji just seems to be unthinkably huge. I did a little searching around on wikipedia for heights of various mountains in order to attempt to put it into a British perspective.

If you took Ben Nevis (1344m), the highest mountain in Scotland, and on top of that you put Snowdon (1085m), the highest mountain in Wales, and then on top of that Scafell Pike (978m), the highest mountain in England, you'd end up with 3407m. You'd still be an embarassing 369m short of Fuji (3776m).

It really is very, very big.



Comment 1
Ah, another nice trip out into the country. Splendid!! Thankyou!

Now, if I may be so bold... Might I suggest you write one of those "Dummies..." books? How about "Mountains for Dummies" because your visualisation of the height of Fuji was just superb! One of those perfectly researched, yet seemingly off-the-cuff qualifications that was just what was required!

Posted by Nigel at 2006/10/09 14:38:14.
Comment 2
Of course, were you to move the Empire State Building to be on top of the Ben Nevis / Snowdon / Scafell Pike mountain conglomerate, you'd then clear Fuji by a comfortable 12m.

Posted by John at 2006/10/09 14:52:34.
Comment 3
It seems like the final bits of your stay in Japan are constellated with excellent trips and great pictures! I have always wanted to go to Fuji, but for a reason or another I never managed :(

Posted by Lox at 2006/10/11 10:00:21.
Comment 4
A nice holiday!
Wish you happy every day!
-------a friend from BeiJing

Posted by CLIFF at 2006/10/12 16:15:27.