Haruka-kun and Kayo-chan
Posted on 2006/10/09 13:47:25 (October 2006).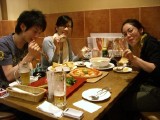 [Sunday 8th October]
Chie went out in the daytime to go on a caligraphy course with her friend Kayo-chan. I stayed in and just did a few odd bits and pieces on the computer. In the evening I called up Haruka-kun, and we went and met the girls after they finished their course for dinner and a few drinks.



Comment 1
I seem to remember you have expressed an interest in calligraphy in the past. Did you miss an opportunity here?

Posted by Mum at 2006/10/09 15:50:48.