At Home with the Moriwakis
Posted on 2006/09/29 01:18:04 (September 2006).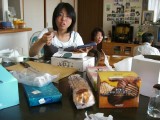 [Sunday 24th September]
I had taken my laptop with me to Hiroshima as I needed to work this morning. Chie left me to it, and went out to meet a friend for lunch. In fact Chie ended up gone all day. As I was finished with my work by around 2PM I was left in the slightly unusual position of spending the afternoon with Chie's family but without Chie there.

When Chie finally returned in the evening, Chie's Mum prepared the bits and pieces for a temaki sushi dinner - temaki being the DIY self assembly one.

There are a surprising number of ingredients one can use to make vegetarian sushi. Tonight I had avocado, hawasabi (leaves from the wasabi plant), umi budo (a type of seaweed - literally translates as "sea grapes"), tamago yaki (rolled Japanese omelette), umeboshi (sour pickled plums), as well as some kimchi on the side (not particularly Japanese, or for that matter a normal constituent of any kind of sushi, but I just like it).



Comment 1
You know, I was just looking at the photos, and that first one of the night shots seems so utterly, inexpicably out-of-this-worldly. Hard to put my finger on it... Somehow there seems too much detail... Hmmm...

Posted by Nigel at 2006/09/29 22:32:48.
Comment 2
To me the pictures look fine, the night shots are good but where can you see the huge details?

Posted by Lox at 2006/09/29 22:45:46.
Comment 3
Hi Lox! I'm not sure - as I said. But I think now that perhaps I was referring to the "foreign-ness" of the skyline. All those spires and .. and ... Well perhaps you and John are more familiar with Japanese night shots than me!! :))

Posted by Nigel at 2006/09/29 22:52:25.
Comment 4
The tea pot looks like... err... well, it looks like an odd tea pot with a big... err... erected... thing!

(I always knew that the Japanese were a lecherous people !)

Posted by Sheri at 2006/09/30 07:21:17.