Itsukushima Jinja
Posted on 2006/09/24 05:13:05 (September 2006).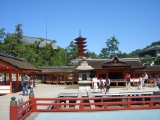 [Saturday 23rd September]
The main event of the day was visiting the Itsukushima Jinja (jinja means shrine - a shinto temple) on Miyajima. We're planning to hold the Japanese ceremony of our international marriage extravaganza there in December, and the people who run the shrine had suggested we go along and watch somebody else's wedding first to make sure it was the sort of thing we wanted.

We also took the opportunity whilst on Miyajima to look around for a place to hold the first reception after the ceremony. It wasn't all that successful The first place just gave the impression they were determined to take as much money from us as possible. The second place seemed sort of disinterested and a bit vague, but gave the general impression they'd want to bleed us dry having caught a whiff of the fact that it was in some way connected with a wedding. The third place looked a lot more promising - they didn't actually have wedding service there, which I found instantly appealing. If you try to book out a banquet hall for 30 or 40 people for a meal and a few drinks for any occasion other than a weddding, it seems to be massively cheaper - as soon as the word wedding appears anywhere in the arrangements then that thing happens like on old cartoons - there's a cher-ching sound and you see little dollar symbols appear in the salesman's eyes. Magically additional costs start to creep in from nowhere, and before you know it, the simple meal for a group of close family and friends is costing you your life's savings.

Unfortunately we then later found out that the third place is run by the Japanese mafia. Personally I didn't have a problem with going ahead on that basis, since they seemed so much better than the others... but I think Chie was definitely put off.

After leaving Miyajima we went to have dinner at an Italian restaurant back on the mainland. This was also listed as a possible reception venue, but it quickly got removed from the shortlist due to the really crappy service we received this evening.

So, a tad frustratingly we haven't been able to make a great deal of progress on deciding where to hold the reception thing... Still I'm sure we'll work something out.

On a completely unrelated note, we had a conversation about the English language over dinner which I found quite interesting. There are lots of words to do with using your eyes in English which all have a very similar meaning but with subtle nuances - look, see, stare, gaze, peek and watch all mean basically the same thing, but you'd use different ones depending on the situation. It was hard to explain exactly what the difference was though - I guess it is one of those things that native English speakers just know, without ever really thinking about.



Comment 1
Great pictures as usual John!! Given your previous experiences, are you sure the wicked Queen wasn't saying to Snow White: "It's only 30,000 yen! Go one, you know you want one!" And hence the shocked look on the dwarves - and the character I most like - the disbelieving flower!! :))

Posted by Nigel at 2006/09/24 08:42:05.
Comment 2
One of the best pieces you have ever written.

Posted by Mum at 2006/09/25 09:02:00.
Comment 3
All I could imagine while reading this was a coulpe of men with dark glasses, dark suits and white ties saying:

"Lovely wedding you've got here, Squire... pity if it went... missing... for 50kY we can make sure that doesn't happen..."

Posted by Rob Lang at 2006/09/26 15:25:22.
Comment 4
YAKUZA all the way John! I can even represent Italy's most loved export (Mafia) if you wish. :)

Posted by Lox at 2006/09/27 16:39:17.
Comment 5
Pfff ! Nuance, you say?! I'll show you what nuance is. Take the word 'regarder', for instance :

Admirer, attacher son regard, aviser, considérer, contempler, couver des yeux / du regard, dévisager, dévorer des yeux, envisager, examiner, fixer, guigner, inspecter, jeter les yeux, lorgner, observer, parcourir, promener les yeux / le regard, remarquer, scruter, toiser, voir.

Slang non included !

English... such a poor language !

Oh and... err... 'nuance' is a French word !

Cocoricoooooo !

Posted by Sheri at 2006/09/28 14:44:37.
Comment 6
For the benefit of the uneducated, 'cocorico' means 'cock-a-doodle-do' !

Posted by Sheri at 2006/09/28 14:46:48.
Comment 7
Sheri, I don't understand, presumably you are saying 'cocorico' is the sound a cockeral makes??? But a cockeral, in a sort of a literal cockeral-to-human translation says "cock-a-doodle-do".

So clearly if birds could speak they would obviously speak English :)

Posted by Kev at 2006/09/29 21:20:04.
Comment 8
Cockerel, not cockeral, you illiterate man... !!!

An Italian cockerel would utter chicchirichi (pronounce Kikiriki).

Chicchirichi, cocorico, cock-a-doodle-do...
Cocorico is definitely the best onomatopoeia !! For sure ! ;-)

ps: don't forget that the cock (the rooster, not the penis, though sometimes I have doubts) is the emblem of France. It stands proudly... on a dunghill !

Posted by Sheri at 2006/09/30 07:15:34.