Gifu and Nagoya
Posted on 2006/09/13 05:29:42 (September 2006).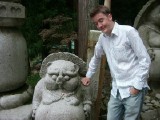 [Saturday 9th September]
So, Leon, Gav and Stu were still in Japan, having moved on from Tokyo on Monday to spend the remaining part of their trip based in Nagoya. As I didn't have much to do I thought it would be nice to go and join them for a final evening out before they headed back to Blighty.

Also into the bargain I'd arranged to travel to Nagoya with Shig, my friend from work, who would then spend the afternoon showing me around neighbouring Gifu - his home town.

So we got on the Shinkansen from Tokyo around 11:30, and were in Nagoya by around 1PM. From there we took a short train ride to Gifu, and were met at Gifu station by Shig's parents.

We spent the largest part of the afternoon at the Tanigumi temple, which apparently Shig's family has a strong connection with (his ancestors were Buddhist monks). We also tried to go on a ropeway (cable car) ride up the side of some mountain or other, but due to technical difficulties it was temporarily closed. So instead we went up the side of the mountain by car, and enjoyed some nice views from the top out over the plains below. It was particularly good being able to see the train line to Nagoya we'd been on earlier in the day - it made it very easy to visualise our journey.

Towards the end of the afternoon we said our goodbyes, and, loaded up with souvenirs from Shig's exceedingly generous mother, we headed back into Nagoya.

We met up with Leon etc at Gaijin Towers - the apartment block where Leon used to live five years back when he was an English teacher here in Nagoya, and where he'd also managed to get a temporary apartment for the duration of this trip. We then kicked off the evening with a Nagoya speciality - Ebi Furya (fried shrimp) and beer. So for me that was just beer then. Shig then headed off back to Tokyo, and the rest of us went on to some nearby izakaya.

The main venue of the evening was Club ID - Nagoya's infamous nightclub, which I'd also been to five years prior. It was, well, OK I suppose... Maybe I'm just too old for clubs now, or perhaps I'm just not as musically agnostic as I used to be.

That place closed at 2, at which point Gav and Stu seemed keen to go to another nearby club called Cream - some kind of hip hop club. Leon went back home at this point, but I decided it would probably make life easier for me if I just stayed out until the first train back to Tokyo went in the morning, rather than complicate the issue by trying to go to sleep. So I tagged along and, again, well it was hard to say I really liked it all that much. It was a tiny little place and really crowded, and I felt I stuck out like a sore thumb. Not really my sort of thing.

So anyway, eventually around 4:30 I decided I'd had enough and slinked off. It hadn't exactly occurred to me at the time, but it turned out we were actually some distance away from Nagoya station, and to boot I didn't know the way either. I think I walked for about an hour until I got there.

So I got myself a ticket for what was more or less the first Shinkansen back to Tokyo (around 6:20 in the morning). The journey back was very pleasant - the Shinkansen is quite roomy and comfortable, and there was almost nobody on board. So I think I got at least an hour's really good sleep.

I eventually got back to my flat in Tokyo around 9AM. I would like to suggest this broke my previous 7AM record, but I'm not sure if it qualifies given that I slep on the train. I think we need a Norris McWhirter figure to officiate on this.

Comment 1
I *do* like the word "infamous" - rather like "flammable" and "inflammable" - kind of confusing. I suppose "in" could be short for "indecently" ?? Just a theory!

I am also impressed by your ability to do "allnighters". I seem to have lost the energy :(

Posted by Nigel at 2006/09/13 11:36:22.
Comment 2
You party beast!!! And not even a line talking about the big decisions and the big announcements!

Posted by Lox at 2006/09/13 24:07:04.
Comment 3
Nigel: all nighters seem to be easier here in Japan for some reason - prior to coming here I too would have struggled with staying out until these sorts of times... Not really sure what the difference is.

Lox: see the following Tuesday's entry (number 939) for all the big announcements etc.

Posted by John at 2006/09/13 13:17:21.
Post a comment