Rounding Off the Weekend
Posted on 2006/09/05 07:32:32 (September 2006).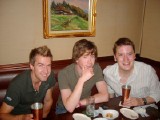 [Sunday 3rd September]
This was Leon, Gav and Stu's last full day in Tokyo, before heading on to Nagoya. Following the excesses of the previous two days, we had all converged on the same vague plan to just take it easy in the daytime, and maybe meet up for a quiet dinner in the evening. So we met around 7 in Shibuya, and to my surprise there were just two of them - Gav and Stu. Apparently Leon wasn't feeling all that great (I can't possibly imagine why) and so had decided to just stay in bed all day.


So we just had a very quiet evening out in Shibuya - first off at a kaiten sushi place (kaiten are the ones with the conveyor belt), then a cafe afterwards for a bit of cake, and then finally a last drink and a few more nibbles in a branch of Pronto. None of us really felt like staying out too late, so we were all on our way home by 11.

On an unrelated note, today was actually something of a minor historical landmark for me - I finally gave in and decided to buy a new digital camera. What is now my old camera was the third one I'd had. With the first two I'd stuck to a policy of just keeping them until they broke. The third one, however, has lasted well over four years and is still in surprisingly good shape. It is a little bit out of date though, it is quite bulky and I'd become increasingly dissatisfied of late with how it dealt with challenging lighting situations. Oh and the flash used to give people seizures.

All of my cameras up until now have been Sanyo - I always liked to just stick to what I knew. However, a survey of shops in recent weeks seems to suggest Sanyo are not really making normal digital cameras any more - all the Sanyo models were more like mini video cameras. I find that pistol grip style a little bit awakward to hold.

So the new camera is, for the first time, not a Sanyo - it is a Casio Exilim EX-S600. I chose it mainly because it was very slim, and like most new digital cameras it had anti-shake reduction and the ISO equivalent went up to 1600. So hopefully this means it will take decent pictures in electric lighting without having to resort to the flash.

I didn't actually get a chance to use the camera today as the battery needed charging. Hopefully though over the next few days I might be able to post some shots, and we can see if it is much of an improvement.

Comment 1
Looking forward to seeing some photos taken with your new camera, John. I had a look at the Casio Exilim EX-S600 on the web after reading your post and, wow, is it slim! I bought an Olympus 800mju at the end of last year and haven't really messed about with the ISO settings yet, but having read what you wrote about the problem with taking non-flash pics in the dark I am stirred to look into the ISO side of things - my camera also goes up to 1600 ISO, but I gather that makes the picture quite grainy? Now I am looking forward to nightfall to get out and about and shoot some decent night shots!! :-)

Posted by Bryan at 2006/09/05 24:33:04.
Post a comment