Sunday Evening with Gav and Stu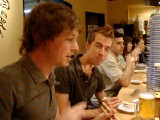 Sunday 3rd September 2006
A very gentle evening out at to round off a boozy weekend in Tokyo. Just Gav and Stu tonight, as poor old Leon wasn't feeling that great (I wonder why...).
> Maison de Stuff
> John
> John's Pictures
> Tokyo September 2006

19:36:26 Here's Gav and Stu in a kaiten (conveyor belt) sushi place in Shibuya.

19:36:39 Same again - I'd asked for a mournful looking picture, for which Gav rolled out this old Reading Festival classic pose.

22:33:56 A little later on in the evening we popped into a branch of Pronto which apparently was very dark!

22:34:26 That's a bit better.