Beach
Posted on 2006/08/15 04:54:14 (August 2006).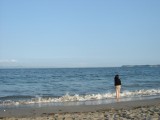 [Sunday 13th August]
Had a lazy morning, and then after lunch got into the standard Sunday afternoon "so what are we going to do today?" routine. I had a hankering to go and see the sea, although I was a little pessimistic about whether or not it would work out, given that, as usual, we didn't plan anything before hand, and by the time we got round to thinking about heading out it was already gone 2 o' clock.

To my pleasant surprise though, we both mustered enough enthusiasm to go and get on a train, with only a vague idea of where we were headed. I spotted a sort of peninsula on the map at the edge of Tokyo bay, which, acting on a hunch, I had determined was the sort of place that might have a beach.

It took a while to get there, but that didn't bother us as we both quite like being on trains in Japan. So by just before 5 we had arrived at Miurakaigan. Whilst it was by no means the most wonderful beach in the world, it met our simple needs. I could look out to sea from there and not see a single building or indeed anything man made (with the possible exception of some ships in the distance). This is a tremendous luxury when you live in central Tokyo, which is about as far away from nature as you can get.

The beach wasn't so busy when we got there, as it was already towards the end of the day. I got the impression it would probably have been quite busy earlier on though (and I'm glad we missed that!). There were a lot of life guards manning the beach - something I'm not so used to from the UK. At one point there was even a touch of drama - they all went and dived into the sea to haul out some bloke and drag him to the shore. We looked on with some concern for a while as they appeared to resucitate him etc, until we eventually realised that one of the life gaurds was holding up a board which read "renshu chu" - which means practising.

We didn't stay that long - probably only an hour or two - which may seem daft as we'd probably spent a total of about four hours to get there and back. Still, I was happy with that - I really just wanted to see the sea for a bit, get some "huge lungfuls of sea air" as my grandmother would put it, and get away from the city, even if just for a short while.

When we got back in the evening I made a "mediterranean stew" using the large soya chunks I'd bought at It's Vegetable the previous weekend. It had a good splash of red wine in it, but other than that it was mainly tomato based - with a decent helping of Herbes de Provence for that mediterranean flavour. Probably not to everyone's tastes, but I liked it at least.



Comment 1
Ahhh.... the sea... Yes I could do with some great lung-fulls of fresh sea air... where can I go? :)))

Posted by Nigel at 2006/08/15 14:04:14.
Comment 2
Answer: probably Criccieth again....

Posted by Nigel at 2006/08/15 14:04:41.
Comment 3
Wait till you see MY pictures of the sea...!

Posted by Sheri at 2006/08/15 16:32:04.