Cafe Culture
Posted on 2006/08/09 04:27:16 (August 2006).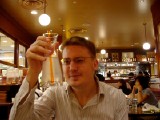 [Sunday 6th August]
Earlier on in the week I was chatting to TK at work about the fact that Chie would be away for a couple of days, but would be back by Sunday. To my amusement he predicted I would spend Sunday out shopping with Chie, and he was in fact entirely right. I suppose it wasn't that bad actually. Usually I dislike the now routine Sunday afternoon trips into Shinjuku. This time though there was onlt a fairly limited amount of shopping, and the rest of the time was spent hanging around in cafes etc - much more my sort of thing.

Particularly we went to this French style cafe/bar, part of the Lumine department store in Shinjuku station. Now I'm sure a genuine Frenchman wouldn't be seen dead in there, but for me at least it did have just enough of that all-important sense of being anywhere but Tokyo.



Comment 1
I like the mad-scientist photo!! Did you drink of the flask and then contort dramatically before sprouting hair on the back of your hands and developing sabre-tooth-cat-like teeth? :))))

Posted by Nigel at 2006/08/09 09:44:08.
Comment 2
Hi John - in the first picture of the French-style café, the one of Chie, the picture makes it look like your double is sitting on the other side of the café...!! Obviously it is a deflected mirror reflection of you taking the photo, but it just struck me as spooky :-)

Posted by Bryan at 2006/08/10 08:51:54.