Coldplay
Posted on 2006/07/21 10:43:56 (July 2006).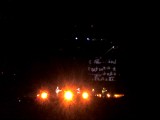 [Wednesday 19th July]
A couple of weeks ago Chie had mentioned that Coldplay were going to be playing in Tokyo. We looked into getting tickets, but it seemed there were only seats right at the back left, and as it was 7500 Yen (more than 35 quid) we decided not to bother. I thought nothing more of it.

About 5 o' clock today, I got a phonecall from Chie, and to my sheer delight it turned out she had magically got hold of two tickets for the concert tonight - for free! So after hurriedly downloading the latest album from iTunes to listen to on my way, I left work and headed over to the arena - Nihon Budoukan. Apparently the Beatles also played there.

It was all very good - we had really good seats, in the main ground level bit, not too far from the stage. To Chie's delight we were next to the sound stage - just after arriving we took a glance over to our right and - lo and behold - there was Gwyneth Paltrow just the other side of a little fence thing from us. At one point Chris Martin got pretty close to us as well, as he came and stood on one of the boxes on the sound stage, possibly because he wanted a chat with Gwyneth about what they were going to have for dinner, however he must have remembered that he was supposed to be doing a concert, so he just sang instead. I tried to take pictures, but only had my mobile with me, so the results were somewhat disappointing.

So anyway, that was all very nice. They played songs from all three albums, and even played Yellow, which I had assumed must have been their Creep or Smells Like Teen Spirit - every band has one hugely popular song which they are sick to death of playing. During Yellow these big yellow ballons came bouncing into the crowd - much to the irritation of the sound engineers!

I particularly enjoyed The Scientist and In My Place - which I think was their grand finale.

After the gig, we had toyed with the idea of going for a drink in the bar where they were going to be having a bit of a post-gig party, but in the end we decided we'd just feel awkward, and opted instead for a quick dinner in Roppongi Hills, then headed off home to bed.



Comment 1
Wow... totally envious!! :) Gwynet Paltrow is also one of my favourite actress!!

Posted by Lox at 2006/07/21 11:05:56.
Comment 2
He was also nearly as nonchalant as this the night he said "hello" to Richard Branson in a bar in London.....

Posted by Mum at 2006/07/22 20:56:34.
Post a comment