Mac Mini and Gyoza
Posted on 2006/06/25 07:34:47 (June 2006).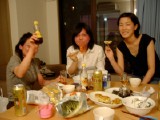 [Saturday 24th June]
I spent most of the daytime working on the FTP backup tool - I've got a very basic version working now, and was able to run it both on my Windows Laptop, and under OS X on the Mac Mini. It's not quite ready to put into use yet - there are a lot of rough edges, but I could probably get it ship-shape given another full day's effort. It is really simple - just a little command line utility - but one of the neat things about it is that after the first time you backup a particular site, each time you run it after that, it only downloads files that have changed. This also means if it gets cut off part way through, you don't have to have to start over from scratch the next time you run.

Chie decided completely at random during the day that she was going to invite some friends over for gyoza and a few drinks. This was very nice - I made pretty much no effort whatsoever - no cooking, no planning, no travelling - and a fun evening just happened regardless. Two of Chie's friends joined us, as well as her little sister, so we were a group of five in total. One of Chie's friends - Haruka-kun, lives pretty much just across the road from us, and has been to our flat several times now. It was quite great how he just turned up in his slippers with a carrier bag full of beers - it felt a little bit like being back in a hall of residence at university.

The Mac Mini did an great job of providing music for the evening - I copied all of the MP3s I had on my laptop onto it, and used iTunes / Front Row to play them. It was really neat to have the "Now Playing" display showing on the TV in the corner of the room, and being able to skip etc using the remote control.



Comment 1
So the mini mac comes with a remote too? Or is it another gyzmo that you bought in Japan?

Posted by Lox at 2006/06/25 10:26:18.
Comment 2
Thank you so much for posting the picture of the socks on the feet they were meant for! Happy wearing.

Posted by Mum at 2006/06/25 10:33:50.
Comment 3
Yes Lox, the remote comes as standard, but there's no keyboard or mouse.

Posted by John at 2006/06/26 01:33:24.
Comment 4
great picture

Posted by jr at 2006/06/26 09:33:15.
Comment 5
Yes, I'm getting to love Front Row and that remote! My previous laptop had XP MCE as it's O/S and it was sooo slow and "clunky" compared with Front Row / iTunes! (No need to offer a comment here!! :)) )

Posted by Nigel at 2006/06/26 09:43:18.