Hakone
Posted on 2006/06/04 04:14:50 (June 2006).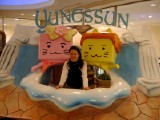 [Saturday 3rd June]
Keen to get away from Tokyo, even if just for a few hours, Chie and I went for a daytrip to Hakone, a town famous for its onsen (hot springs). I'm not sure the place we went to was that marvellous, but it was a pleasant diversion anyway. It was a little bit downmarket compared to Enoshima, a little bit old and grubby in places, and a lot more people, especially lots of kids. Fortunately Japanese children do not seem to be nearly as annoying as British kids can be in that sort of situation (at swimming pools, beaches, etc).

This place had some themed baths - basically with artificial colouring and some kind of aroma in. So there was a green tea bath, a red wine bath, a coffee bath (?!) and a sake bath. It was all kind of fun, a bit of a novelty, but I wasn't exactly left with a desperate urge to go again.

We probably didn't time it all that well - by the time we got out of the onsen place, it was already late afternoon. If it had been daylight, we might have gone over to a nearby lake which is apparently very scenic, and from somewhere nearby you could also get some nice views of Mt. Fuji. As it was though, we just meandered back home basically, stopping off in another nearby town called Odawara for some dinner. The return journey to Tokyo seemed endless - as we were on slow local trains it took about two hours.

Definitely in retrospect we should have planned it better - to go and see a bit more countryside, and probably to get the value out of the train fare we should have stayed a night. Still, it was, as I said earlier, nonetheless a pleasant diversion.




Comment 1
So are you shouting: "Run! They're behind you!" in this picture, and Chie is saying "Nah!! Don't be daft!" :)))

Posted by Nigel at 2006/06/04 09:26:41.
Comment 2
On the countrary I quite like Hakone, better than Enoshima if I might say... Maybe it's because I used to go there with my Japanese girlfriend, dunno... OH HAPPY DAYS....

Posted by Lox at 2006/06/05 17:39:44.
Post a comment