Wine
Posted on 2006/05/29 15:52:21 (May 2006).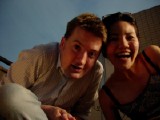 [Monday 29th May]
I had a really crappy day at work today, so as going-home-time approached, I determined I would need some form of treat in order to cheer myself up in the evening. Having read Sheri's article about wine etc the previous day, a thought had obviously become lodged in my brain, and therefore decided as a simple measure to forget my crappy day, I'd go and buy a nice bottle of plonk on my way home.

I went to the department store near the station closest to my office. It has a reasonable sized wine shop in the basement (although on a closer inspection, the range of wines on offer was less than vast). I settled on a Carruades de Lafite 2002 (Pauillac...?). In honesty the words on the label meant very little to me - I chose it on the basis of it being in the cabinet, rather than just on the regular shelves, but not being ludicrously expensive. Yes, my knowledge of wine is quite embarassing.

So I returned home, bottle in hand. I'd ended up getting back later than I originally though I would (work had dragged on) so Chie had already got dinner more or less sorted by the time I arrived, which was nice. I had a craving for parsely sauce and broad beans, which I'd told Chie, and so the meal was largely constructed around that.

After dinner we went out and sat on the balcony for a while. It is hard to be too generous about this - the view is hardly inspiring, you can never see any stars in Tokyo, the air is dirty, and the is the constant din of traffic in the background... but we struggled on regardless, and somehow or othe rmanaged to have a nice time.

Yesterday I said something unforgivable. I'm not about to take back that I'm tired of being in Tokyo, but I was far too hasty in saying I was tired of drinking.

Alcohol: I am deeply sorry about the horrible things I said. You know I love you really. Let's never fight again!



Comment 1
No worries mate! I have been with you for a long time and I'd never leave your liver for a stupid argument... Anyways regarding this Tokyo thing, I hope that is not something to drink or I will be WELL JELAOUS!

Posted by Alcohol at 2006/05/29 16:22:08.
Comment 2
Lucky you sitting out on a balcony. It's Bank Holiday Monday here - so guess what the weather is doing?

Posted by Mum at 2006/05/29 18:45:29.
Comment 3
Mum: I'm guessing the sun hasn't got his hat on, and there isn't a lot of hip-hip-hooraying going on either?

Posted by John at 2006/05/30 01:33:30.
Comment 4
Intermittent showers actually, one of hail.

'Bout time you gave your patio plants some liquid feed. Don't put it on completely dry pots, even diluted. And don't confuse it with the new "Squeeze me" marmite.

Posted by Mum at 2006/05/30 11:10:08.