Gadgets
Posted on 2006/05/01 13:30:17 (May 2006).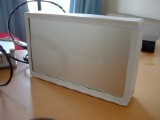 [Sunday 30th April]
I'm not a nerd, honest. I'm a media person really - the reason I like technology is because of what it can do with media - images, music, video... Look at the software I've written, and the industry I work in. At the end of the day what realy matters to me is the content - the photos, the songs, the telly... The technology side of it just means that you can enjoy and appreciate that content in new and interesting ways. So yes, I'm an engineer, but what I really enjoying doing is engineering things that allow people to enjoy interesting content, be creative, and even, dare I say it, be artistic. By definition that makes me more of meta-artist than just a simple technician or engineer. Honestly, I'm not a nerd!

Right, having got that disclaimer out of the way, I spent today being (what might superficially look like) a total nerd. Chie went out with a friend of hers for most of the day, leaving me in by myself to do all those odd jobs on the computer that I keep meaning to do, but never quite get round to. Having bought a lovely new external hard drive the day before, I decided it was high time to back up all of my photos - many of which were rather precariously only existing in one place before yesterday. It is great to have everything safely backed up in one place on one handy portable device - a little digital memory box of my life over the last few years.

I also spent a fair bit of time doing odd bits of maintenance on the website. The blogging engine we use is a little old and tired, but we're in a position now where it really isn't that easy to move to anything else*. One unfortunate side effect of this is that our server has a nasty habit of deleting any CGI process that takes too long to complete, and so for me at least, having quite a lot of posts now on my blog, any update that needs to be applied across all entries generally fails part way through. This has been bugging me for some time now, so I finally decided to see if I could have a fiddle with the scripts and fix it. It took a fair while, but I got there in the end. It's one of those thankless tasks, behind the scenes, that no-one would even know about had I not just mentioned it... but it's all about enabling content on the site, and helping people to enjoy themselves. I told you - I'm not a nerd!

Oh and I also spent some of the evening making a DVD, using the DVD writer I bought a couple of weeks back. Most of my family have internet access, so can keep up with my exploits via the miracle that is the web. My grandmother Vera though, being 86 and all that, funnily enough does not own a computer. However, I noticed on my last visit that she now has a DVD player, so it occurred to me I could make a slideshow DVD and send it to her instead. I was pretty impressed with the software that came with the DVD writer (Ulead something or other). Not only did it make it embarassingly easy to put together a slideshow DVD, it also rather superbly let me add an audio commentary to each picture. This really brought the experience to life - a silent slideshow would have been a little bit empty and meaningless, but with the commentary I'm hoping it will be more like a "virtual me" in Vera's lounge, looking through the pictures with her. Oh and it also let me make some flashy menus and stuff. Whilst I doubt Vera will care so much about those, I thought they were kind of cool.

* Rob/Lox - none of the usual "Why don't we move to PHP?" comments please! Unless, that is, you are personally volunteering to undertake all the required work of rewriting scripts and transferring content to a completely new site - I reckon you're looking at about two man months, full time.



Comment 1
Ah now... Being totally in "nerd-mode" what really counts is that the new HD has a Blue!! LED. So cool, man!

I think we should have more gratuitous naked pictures of IT equipment! :))

Posted by Nigel at 2006/05/01 14:21:04.
Comment 2
Mmmmmmmm.................. I'm lost when it comes to new technologies! Complètement largué! So... no comment from me.

Posted by Sheri at 2006/05/01 21:20:25.
Comment 3
I like the hard drive, looks nice! I have had quite a lot of troubles backing up my data when I got the new computer, mostly because something went horribly wrong while coping onto my external drive and quite a lot of data got lost... :( Still Backing up data is essential! :) Makes you feel SOOOOO SECURE!

Posted by Lox at 2006/05/02 08:03:18.
Comment 4
Hi John,

I love the fact that you created a DVD for your Grandmother. That's so awesome. My Nanny has a computer although it doesn't get used on a regular basis. And when she calls and my fiancé and I aren't home, she'll leave a message and say "Nanny" at the end as though she's signing the end of a letter. You just have to love grandparents! I know my Nanny just loves to hear about what my sister and I are up to.

Cheers!

Posted by Malinda at 2006/05/02 17:42:31.
Comment 5
Actually, it took me 1 day to transfer 400 files to XML and another day to write the XSL transform to display it. It then took me 5 minutes to write a php script that called both.

But I can't use the php because I need the XSLT stuff in php5 and we only have php 4. It did work though, I tested it on the Icar server.

So, conversion from a standard HTML format to XML? Not as difficult as you think.

Posted by Rob Lang at 2006/05/09 10:22:31.
Post a comment