Random Touristy Day Out
Posted on 2006/04/30 07:20:59 (April 2006).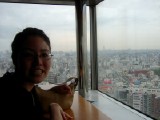 [Saturday 29th April]
We had almost no plan whatsoever for today, which actually turned out to be one of the day's real highlights. We just wandered aimlessly from one thing to the next, and surprisingly actually managed to have a really good time.

We started off with lunch at It's Vegetable in Kinshicho, on the other side of Tokyo to where we live. This was the one bit that had been planned - we'd wanted to go the previous weekend, but Chie had been poorly. The food, like last time we went back in December, was fantastic. If anything it had got even better. What was particularly great was the infectious enthusiasm of the guy who I assume to be the owner. This was very clearly demonstrated with a new kind of deep fried nuggety thing they'd presumably recently invented - a food that is yet to have a name given to it. These nuggety things were rediculously delicious, and he just couldn't help but tell everyone that ate some of it about the secret ingredient - rice. It is great to see a restaurant experimenting like this, especially when the results are so good, and even more so when the staff are so passionate and excited about their food.

After a truly excellent lunch, we wandered out, and started to think about what we could do with ourselves for the rest of the day. Apparently Kinshocho didn't have a great deal to offer (besides one excellent Taiwanese restaurant of course), so instead we headed over towards Asakusa.

We took a quick stroll past the main tourist attractions - the big lantern and Sensoji temple - and continued on to Bar Kamiya (or is that Kamiya Bar). This is a traditional (ish) Japanese bar with quite an unusual atmosphere. It is famous for an excitingly vicious drink called "Denki Bran", which I believe may even be made on the premises. Chie and I had been once before, and I remember it being sort of, well, special. We didn't stay long - just a small glass of ole' Denki each, and, strange as it may sound, some broad beans. It would have been rude not to.

From there, we took a quick stroll over to the other side of the (Sumida?) river to visit the world HQ of the Asahi drinks company. Atop one of the buildings is a rather unfortunate company logo. I may have misunderstood the history, but I think it was supposed to look like a golden flame, but unfortunately building regulations meant that it wasn't allowed to be propped up vertically, and the resulting horizontal version is more like, well, a golden turd. After the amusement of the golden turd had subsided, we went into one of the other HQ buildings (designed to look a bit like a glass of beer, complete with foam on the top), to visit the bar on the top floor. This was jolly nice actually - a great view out over Asakusa.

After the Asahi HQ, we went back over the bridge and decided at random to get on a boat. We took a 40 minute river cruise, past some hilariously bland scenery, to Hinode - the docks at the mouth where the river meets the sea. I read somewhere that "Tokyo has turned it's back on the Pacific" and as a result it is easy to forget that you are by the sea in Japan's capital. The shoreline is mostly industrial, and with the possible exception of the articial island of Odaiba, they really don't seem to make a great deal of use of the tourist potential.

From Hinode we walked to the nearby JR station (something beginning with M, don't remember exactly), and got on the Yamanote line - Tokyo's overground equivalent of the London underground's Circle line. Chie dozed off, as we went almost 180 degrees round to get back to Shinjuku.

We finished off the day in Shinjuku - a bit of shopping (bought some new olive oil and a 250GB external hard drive) and dinner at an Italian place, that was actually rather nice.

Comment 1
Love the pictures with the GOLDEN TURD! Made my day, was laughing away with Marta about it...

As for the Denki-Bran is it made with ALL BRAN (tm) and some electricity? (Denki in japanese means electricity, among other things)... Never had it sounds interesting though!

Posted by Lox at 2006/04/30 10:28:34.
Comment 2
Apparently it is made from brandy and gin... or something like that. So I guess the bran comes from brandy? As for the denki, well I had a bit of a shock first time I drank it - so maybe something to do with that...?

Posted by John at 2006/04/30 10:32:56.
Comment 3
...in all honesty Lox it isn't really that nice, it's just one of those "experience" drinks - it is a really interesting bar, and it would just feel sort of wrong to go there and not drink Denki Bran (and eat broad beans).

Posted by John at 2006/04/30 10:34:07.
Comment 4
Ha! I'm with Lox on that - had me and Joc laughing! Me until my eyes watered!! Excellent!

As for the Denki Bran - I like the picture of you with the waitress behind you. She looks so shocked!! Did someone ask for a second glass?!?!?

Posted by Nigel at 2006/04/30 24:51:43.
Comment 5
I don't know, John. The golden turd joke is normally the kind of thing "I" would do! Not you!!! I'm perplexed.

Posted by Sheri at 2006/04/30 13:49:23.
Comment 6
You puzzle me at times...!

Posted by Sheri at 2006/04/30 13:52:32.
Comment 7
I've got a PhD you know.

Posted by John at 2006/04/30 15:22:01.