It's Vegetable, Tocho and Mince Pies
Posted on 2005/12/18 10:38:19 (December 2005).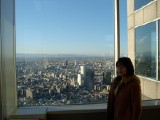 [Sunday 18th December]
The title sounds rather like an introduction to a bizarre Japanese comedy act, don't you think? In fact this is a description of the main features of the day - lunch at a place called It's Vegetable, then later on a look at the view from Tocho, then rounding off with a spot of mince pie baking back at the flat.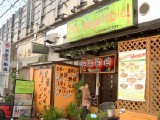 So, lunch was at this place called "It's Vegetable!" - a Vegetarian Taiwanese restaurant on the other side of Tokyo. They did an all you can eat buffet, rather amusingly known in Japan as a "viking" - or baikingu as they say it. The food was very good, and I shall definitely go again. Had a bit of a chat with the owners whilst we were there, and I realised just how much I like being surrounded by fellow vegetarians - a rare experience in Japan. I received some guilty pleasure from the role reversal - usually when Chie and I eat out, I am the only vegetarian in a place full of meat eaters. In this instance though Chie was in the minority!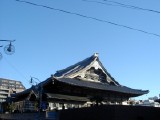 After lunch we went for a wander in Koppabashi Kitchenware town - a long street lined with shops selling all manner of kitchen utensils. I think it is largely intended as supplies for the restaurant industry. Anyway, it was really interesting - one of the few types of shopping I actually like (!) - and I made a couple of purchases there in order to make mince pies.



On the way back to our flat we stopped off at Tocho - the Tokyo Metropolitan Government Building in Shinujuku. This is famous for having a really good view from the top floor. It occurred to me as it was a very clear day that we might be able to see as far as Mount Fuji. We weren't disappointed - we could see it fairly clearly, although the late afternoon sun made it a little difficult to stare directly at it, and the pictures weren't that successful either. Made a mental note to go in the morning next time!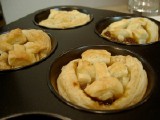 Made mince pies when we got home - this required a fair amount of improvisation given the available cooking facilities and ingredients but the results were not too bad. They looked a bit misshapen and ugly but they tasted, well, like mince pies.

For the first time it actually feels a bit like it is getting close to Christmas!

Comment 1
Brill pics John! The pictures from the Tocho of that other large building were somewhat unsettling though - especially on zoom. To think of all those other people in there... made me shudder. I realise I prefer being in buildings only a couple of stories high at most! :)

Posted by Nigel at 2005/12/18 11:33:23.
Comment 2
Yea Nigel, I'm not entirely comfortable with tall buildings either, especially with Japan being such an earthquake prone country.

This was actually a factor when looking for a place to live - we saw one place on the 11th floor which was really spacious and everything, but I just couldn't feel comfortable living there. The flat we've actually chosen is on what the Japanese call the 3rd floor (but they start at 1, rather than "ground" so in effect it is the 2nd floor in UK terms). This seemed reasonable to me - especially given the balcony, which has nothing directly above it.

Obviously in reality, no doubt, your chances of coming off a cropper in a serious earthquake are much more to do with your geographical position, rather than the type of building you are in... but it's a psychological thing I suppose.

Posted by John at 2005/12/18 24:10:13.
Comment 3
The Shinjuku Central Park looks pretty miserable to me. As if it were strangled by the surrounding concrete buildings and slowly suffocating. On the other hand, the Hobgoblin pub looks from the outside like a gate opening to Harry Potter's world.

Posted by Sheri at 2005/12/18 13:22:39.
Comment 4
Fabulous pic from 'Tocho' now fills the screen on my desk top.
Many thanks.

Posted by Dad at 2005/12/18 16:48:12.
Comment 5
Glad you liked it!

Is the resolution OK though?

I could get you the higher resolution original if you would prefer...?

Posted by John at 2005/12/20 10:21:32.