Mount Rainier National Park
Posted on 2006/02/26 02:42:13 (February 2006).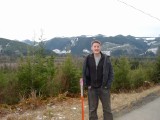 [Saturday 25th February]
Me and my colleague (who had come over to Seattle from Tokyo with me) decided we ought to make use of the day off to go and see a bit of the great outdoors. As we didn't manage to start off that early, we decided not to go as far as Mt. St. Helens, but compromised instead with the closer Mt. Rainier National Park.

Had a really nice and relaxing drive through the snowy forests and mountains of the national park. I think it did us both the world of good to get away from the trials and tribulations of our jobs like this. There wasn't really a whole lot to do - but this didn't matter - it was nice to just breathe in some cleaner air and sit back and enjoy the scenery.

In the evening we went for Indian food at a place near the hotel where I'd been on my last trip to Seattle. Last time I'd been to this place I remember distinctly having a glass of red wine with my curry. I'm sure I had looked somewhat detrimentally in the past to anything but beer being drank with curry, but on rare occasions a glass of red just seems appropriate somehow. Tonight apparently warranted the same prescription - perhaps because of the cold weather, having spent some of the daytime surrounded by snow, I don't know. It was a jolly nice curry, especially with the red wine, but I felt very bloated indeed afterwards.



Comment 1
Looks like a pleasant jaunt indeed. Glad you feel better.

Posted by Sheri at 2006/02/26 24:46:29.
Comment 2
Absolutely brilliant!!!! Splendid place John! A part of the world I'd love to visit.

And I couldn't see any plastic bags dumped at the side of the road (in your movies) like we get in Blighty...:(

Posted by Nigel at 2006/02/26 19:13:07.