Last Day in North Wales
Posted on 2005/10/13 22:56:13 (October 2005).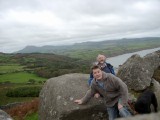 [Wednesday 12th October]
Yesterday's news of the issuing of the visa certificate had meant that wheels had been set in motion. It was now time to start preparing for my return to Japan (and a life of employment). I had planned to spend my last few days in the UK with Mum, so this meant I would be leaving North Wales imminently.

Today was therefore my last full day staying at Dad's house. Both Dad and I were utterly determined, come hell or high water, to get out for a "decent" walk, given the general lack of these over the previous few days as a result of the bad weather, etc.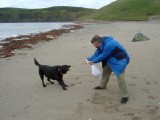 We started off by going to Aberdaron beach, to give Yatesy a bit of a run, and had the usual fun playing "catch" with him. The name "catch", when applied to this pastime, is something of a misnomer. In actual fact the actions of throwing and catching form a relatively minor part of this game when Yates is involved. Once he has posession of the ball/stick/whatever, he isn't keen on letting go. So in a typical session, the article in question is thrown once, Yates goes and gets it, and then the rest of the time is entirely consumed with the human participants trying in vain to get it back off him again. There is something quite gratifying about seeing such a highly trained and intelligent animal (he's a retired guide dog) indulging in such a simple appetite for fun. It's like watching a professor play tiddly winks.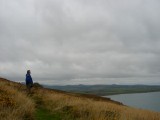 We were, however, not content with just one walk, and after leaving the beach Dad drove up above Aberdaron, along the coast to the unusual little settlement of Rhiw. From there we went for a fantastic walk along the coastal path, with superb sea views, in an area Dad had apparently not explored before. The lansdscape in this bit of North Wales is amazingly varied, and in places along the walk we were both reminded of Dartmoor, a favourite old haunt of ours.

The remainder of the day was fairly quiet. Dad threw together a very nice Chinese/Indonesian type of meal for dinner, and afterwards I set about the wholly undesirable act of packing.

Post a comment