Movement, with a Hint of Sod's Law
Posted on 2005/10/13 22:29:05 (October 2005).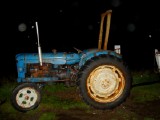 [Tuesday 11th October]
After days of inactivity, everything sort of got moving today. It was, I suppose you could say, a "Nodal Tuesday". I heard that my visa certificate had been issued, so at long last I could actually start my new job (subject to a visit to the Japanese embassy).

This, although good news, was timed a little unfortunately. Prior to hearing about it we had no definite idea of how long it was going to take. So Chie, hedging her bets, had decided to go on holiday with her parents in Malaysia, naturally not wanting to be left by herself for a week. As is the way of these things, about 10 minutes after Chie booked her flights, I got the email telling me the certificate was ready. Chie had even phoned specially, early in the morning, to check that I hadn't received any news about the visa, and she wouldn't have booked the holiday if I had heard anything by that time. So it looks like now when I eventually get back to Japan Chie won't actually be there for the first few days!

Oh well, it will probably be good for me to be thrown in at the deep end by myself for a bit.

The incident of Chie phoning had further repurcussions on a more local scale. When I'd gone to bed the night before, I had found Sally, my Dad's cat, asleep on the other bed in my room. Recalling unpleasant experiences of being attacked by cats in my sleep, I wasn't having any of this, so swiftly removed the offending feline. She was then caught on my Dad's "patrol" and put outside for the night. It was a very wet and windy night, and no doubt Sally was not best pleased at having gone from a comfortable bed in the warm and dry, to a hard night out in the rain. I had assumed this would be the end of the matter, but oh how naive I was, given the career of evil which this unassuming pet was about to embark.

When Chie phoned at some ungodly hour of the morning, I ran downstairs to answer it, half asleep, and neglected to close the door to my room. You can guess what was waiting for me when I returned. Somehow Sally had not only got back into the house, but had, in a fit of vengeance, gone straight for my room. When I got back to my room, the drenched moggy was busily rolling about on my bed drying herself off. The particular spite of it was evident in the fact that on any previous occasions she has managed to sneak past me into the room, she has always gone to lie on the other bed. It was, of course, only when she was soaking wet that she chose my bed. I am now a firm believer that cats, underneath that innocent looking furry exterior, are actually just pure wickedness.

"It's deviltry Watson", as Mr Holmes might have said.

So all of this, and we had barely got past 7:30 in the morning!

I went back to my now wet bed, and slept in an awkward position for a few hours, not getting up again until almost lunchtime. Given the looming end of my spell of unemployment, I thought it best to enjoy such luxuries while I still could.

The afternoon was relatively uneventful - it was raining so I didn't feel like venturing outside, and instead sat in front of the computer for most of it. Janie returned around teatime, having been away visiting Lucy for the past few days. We had high tea around 5, before everyone popped out for a bit to go to some meeting or other.

The responsibility to cook dinner fell to me as everyone was out - I knocked up a simple Italian meal - some garlic bread (using Mum's simple but excellent recipe for garlic butter), a green salad, then for the main course some tortelloni with an olive, tomato and caper sauce I threw together. It all came out rather well, even though I say so myself.

The atmosphere was very jolly indeed over dinner, and everyone was in high spirits. This was helped somewhat by a bottle of wine initially, and then, the real piece de la resistance, a bottle of very good Pineau, which Martin and Liz (my Dad's friends - who, if I hadn't already mentioned, were staying at Dad's house) had brought back from France.

It was, I suppose, like Mum always describes dinners in France. We all stayed round the table, enjoyed a few drinks, talked and laughed, and there was no need whatsoever for any foul modern inventions like televisions or computers to provide entertainment. Very enjoyable indeed!

Given the combination of the bad weather, and my Dad not feeling that well, we had not really been on many walks for the past few days. As the weather had improved a little (at least the rain had slowed to a drizzle), and Dad was also feeling better (perhaps more because of the Pineau than any other medication!), we decided to go out for a walk...

...about half an hour before midnight.

Dad lives in a very rural part of North Wales. There are very few houses, no large centres of population, and very few street lights (almost none, in fact). On a starry moonlight night one can just about navigate the dark country lanes on foot. When it is raining and the sky is completely overcast, it becomes a somewhat more difficult task. We quite literally found our way to the sea by memory. One important part of the process, given that the intended target was the sea, was of course knowing when to stop.

Somehow or other we managed without any great accident, and I enjoyed heartily taking a swig of Yoichi single malt from my hip flask, standing by the sea with my Dad and the dog, in the absolute pitch back.

A great end to a very eventful day.

Post a comment