Eating
Posted on 2005/09/23 10:45:57 (September 2005).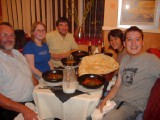 [Wednesday 21st September]
Had a very food oriented day. Spent most of the daytime with Mum, and for the majority of the afternoon me, Mum and Chie were in the kitchen, whilst she was busy cooking assorted delights, and Chie and I were busy eating them! She made her ever wonderful caramelised oranges, as well as some toffee popcorn - an old favourite of mine, whilst also at the same time making apple chutney in the background.
Alex came to pick us up just before 6, and he then took us to his house in Stoke (well, Newcastle under Lyme to be precise). This was to save Dad a bit of driving, who was on his way back from Guildford to North Wales, and was going to pick us up in Stoke on the way through. We all went for Indian food somewhere near Alex's house, at the Shalimar Balti Restaurant, and there I had possibly the best jalfrezi I have ever tasted. Another highlight was the giant nan - see the pictures - I have never seen anything quite like this before. I think the Shalimar has instantly jumped into my top 10 places for Indian food.
From there we drove on to Dad's house in North Wales, which seemed to take much less time than I'd imagined it would - well under three hours.



Comment 1
Why should I feel hungry suddenly?

Posted by Sheri at 2005/09/24 18:46:37.
Post a comment