Apple Tree and Walk
Posted on 2005/09/22 13:47:55 (September 2005).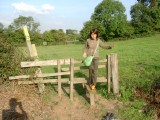 [Tuesday 20th September]
Spent a fair chunk of the day outdoors, enjoying the pleasant English weather! Mum wanted me to pick some of the more inaccessible apples from the tree, so for the first time in many years I climbed that old tree in the back garden that I'd spent so much time in as a child. It was like riding a bike - I remembered all the old footholds, and particularly the wonderful smell of apple tree bark.
Later on Chie and I went for a walk around the village, and wandered as far as Hemington Hill, where I used to go sledging when I was young - so another trip down memory lane!



Comment 1
Ah, Radcliffe-On-Soar power station. I know it so well! I'm from Nottingham and I still have a mate in Melbourne who I go to see a couple of times a year. He got married in that church at Breedon on the Hill. A scary, windy location I recall!!

Posted by Nigel at 2005/09/22 22:45:01.
Comment 2
Wow - I didn't realise you were quite that "local" Nigel! What a small world it is! I remember that there always used to be an eel farm next to Radcliffe power station, and my brother once came to the conclusion that they must therefore be electric eels. Apparently they like the warm water which comes out of the power station or something...

Posted by John at 2005/09/22 23:10:04.
Comment 3
Is your dad's pub still there? "The Three Keys" if I remember correctly, or maybe something to do with keys,... actually maybe something not related to keys at all... :)

Posted by Lox at 2005/09/24 10:28:44.
Comment 4
Close enough Lorenzo - it was the Cross Keys, which, as it happens, is also the name of my favourite local in Pangbourne.

Posted by John at 2005/09/24 15:30:32.