Osaka to Amsterdam
Posted on 2005/09/20 09:46:39 (September 2005).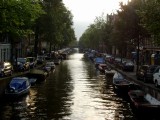 [Wednesday 14th September]
Long haul flights and changes of time zones make for rather confusing days, especially when it comes to writing a journal. So we flew from Osaka at about 10 in the morning, and the flight was about 12 hours. So theoretically when we arrived in Amsterdam, it was 10 at night Japanese time, but thanks to the time difference it was actually still the afternoon (around 3 or 4 o' clock), and so we had the whole evening still ahead of us.


The flight wasn't that bad again - it was really nice to have Chie for company for a start. In fact, thinking about it, everything went rather well. We asked for seats at the front, with a bit more leg room, and after a bit of initial confusion we ended up with the best seats in our section. It was one of those more modern planes, with individual screens and video-on-demand. We had a nice chat with one of the stewardesses who told us some useful information about Holland... even the food was quite good for a change!

So anyway, we arrived in Holland some time after 3 in the afternoon, European time, and we were leaving the airport by just after 4. We hadn't booked a hotel or anything, so this consumed a bit of time. We initially went to a place recommended to us by the stewardess, but found it was full. After a bit more wandering around we found a very central, fairly reasonably priced hotel. In a similar vein, not unlike the flight, a bit of negotiation seemed to be required to get us a decent room - the first one they gave us was a bit crap, but the one we ended up with was much nicer.

After leaving our bags, we headed out from the hotel around 6ish, to go for a general wander around Amsterdam, and find somewhere to eat. We strayed somewhat automatically away from all the touristy areas - the last thing I wanted was to be surrounded by idiotic drunken young English men on a stag do. We only had to go a few streets away to find the "other" Amsterdam - very quiet streets, lined with interesting shops, bars and restaurants, and canals everywhere you look.

We visited two places - first a sort of tapas bar, where a few small tapas dishes made a very nice starter. A little later on we went to a very nice cafe/bar place called Het Molenpad, where I had a very good "vegetarian special" - Portobello mushrooms, with brie, pear and sage. A really nice combination.

Amsterdam seems like a really nice city (once you get away from all the tossers), and it was a shame to have only had one night there! Must go again some time...

Post a comment