Champagne and Sushi
Posted on 2005/09/01 24:21:04 (September 2005).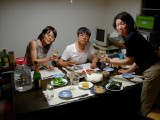 [Moday 29th August]
Didn't do much in the daytime - slept most of the morning (and some of the afternoon!) to recover from the unpleasantness of the night bus, and the general excess of the previous weeked. Had temaki sushi (the DIY variety!) for dinner, accompanied by a bottle of champagne, which Chie's parents had very kindly bought to celebrate me signing the contract for my new job.



Comment 1
Hi John. I've seen the "V for Victory" kind of salute made by people (here, Chie) in many of your Japanese photos. Does it mean anything special? Or is it just a kind-of celebratory "Wonderful!" expression. Or, more sinisterly... is it rabbit-ears ... :(

Posted by Nigel at 2005/09/02 14:35:54.
Comment 2
In Japan they seem to use it to mean peace... I guess it is sort of related to "victory", perhaps a misunderstanding occurred somewhere in history and it was incorrectly translated....?

Or maybe there is a more sinister undertone to this seemingly cute and hippy-esque piece of Japanese culture...?

Posted by John at 2005/09/02 15:42:50.