More Girly Time
Posted on 2005/08/29 13:46:39 (August 2005).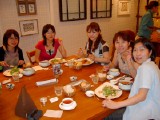 [Sunday 28th August]
Had lunch with Chie's friends again - this time at "Afternoon Tea" - a cafe chain in Japan which appears to be very loosely based on the great English tradition from which it takes its name. I wondered what other people in the cafe must have thought about me - a single male gaijin with a group of five Japanese girls. When I quizzed my dining partners the general consensus seemed to be that people would probably think I was an English teacher, and these were my students, or I was on a "home stay" - an exchange student staying with a Japanese family.
Spent the afternoon doing a spot of shopping, and towards the end we all went our separate ways. Chie and I went on to an izakaya near Shinagawa station where Chie's sister has a part-time job, and had dinner plus a few drinks there with an old work friend of Chie's.
We left the izakaya around 8ish, to head over to Tokyo station. Chie and I have a constant power struggle when it comes to travelling around Japan - I typically want to travel by the most expensive, and therefore safest, quickest and most comfortable means - so generally this equates to the Shinkansen (bullet train). Chie on the other hand seems to value price over all other criteria, and so is happy to travel in the most cramped and unpleasant conditions, taking forever to get from A to B, just to save a few Yen. In the interests of international diplomacy, I thought I ought to give in for a change. So rather than returning to Hiroshima by Shinkansen, I'd agreed to go back by night bus with Chie.
It was, in the words of Oscar Wilde, crap. Even though I somehow managed to get probably the best seat on the bus - at least on our level (it was a double decker), I was still pretty uncomfortable and barely slept at all during the 12 hour journey. I just can't sleep in a seat in a moving vehicle, after having tried and failed on a number of occasions I just need to accept this fact now. Being in a coach full of Japanese people who could seemingly sleep even whilst cycling I found this quite frustrating - they had all dozed off within about a minute of getting on board, and slept soundly throughout. 12 hours on a bus with no view (it was dark and we had to close the curtains) and no-one to talk to did not make for a fun experience! However, on the plus side, at least next time we have the argument (sorry, I should say discussion) about travel I can at least say with some authority that the night bus is just not suited to people like me.



Comment 1
Pretty impressed Prince John...

How is that you always seems to be surrounded by large groups of very beautiful women !?

It must be a gift that you have ... maybe they truly are under the illusion that you are British royalty ( and were just too discrete to say .... which probably does confirm that the Veggy Lady was from Taiwan where maybe they are more direct ... anyway .. I digress)

Just think ..... that would make me the heir to the throne and Vera Queen ! Perhaps you ought to come clean and show them pictures of your real family back here in little 'ol UK
On the other hand ?
And ....How will you manage with the paparazzi once the news gets out in Tokyo ?

Yours humbly

Dad

Posted by Dad at 2005/08/29 22:58:42.
Comment 2
Interesting - I had never considered the striking similarity our family bears to the royals before - quite similar ages, and an undisputed female monarch at the head.

I suppose technically then Adrian must be Prince William, as the eldest in this generation, which would make me Prince Harry technically - the wayward one!

I'd never previously had an urge to go to a fancy dress party as a Nazi, but I suppose "When in Rome..."

Posted by John at 2005/08/30 08:51:58.
Comment 3
Your Majesty.
You now live in the country of the "Japanese eye", where the sky is GREEN, apples al BLUE as well as traffic lights.

I am not surprised that they think that you look like Price Harry, probablty the only British person that they can safely recognize, as all other gaijins are branded americans.

Mmmm I wonder if you were French they probably would think that you look like Cantona!!

Posted by Lox at 2005/08/30 16:27:12.
Comment 4
Actually they thought I looked like Prince William but let's not split heirs.... boom boom!

Posted by John at 2005/08/31 04:06:10.
Comment 5
Tee-hee!!!! :)

Posted by Nigel at 2005/08/31 15:12:34.