Out with the Girls
Posted on 2005/08/29 13:38:06 (August 2005).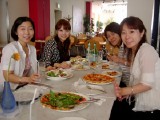 [Saturday 27th August]
Chie came to Tokyo a day later than me - she had got the night bus, which meant she arrived in Tokyo around 7 in the morning. So we met at my hotel quite early in the morning. I'd had a rather heavy night out the previous evening, and my relatively short sleep marked the start of a trend over this weekend - I averaged less than four hours each night. Chie and I killed time for a bit in the morning in a cafe in Ikebukuro, before meeting up with the girls - lots of Chie's old university friends - around 11ish.
The first item on the agenda for the day was lunch. It turns out there is a Pizza Express in Tokyo (for the non-English among you, this is an English chain of slightly upmarket pizza restaurants). It seemed somehow natural that we went there for lunch - I recall on a number of occasions going there with Chie's university friends back in England. It was a great venue - just like being back in England - even the staff looked the same! Plus it is always so heart-warming for me to see the word "vegetarian" on a menu in Japan!
Spent the afternoon generally mulling about and chatting, and in the evening the main reunion type event took place. Hiromuchan had done a lot of the organising. We were going to have two nomikai (Japanese for "drinking party"). The first nomikai was at a Spanish restaurant / tapas bar. There were about six of us to start with, but another three of Chie's friends joined us during the course of the evening. So we ended up with quite a large (and rowdy!) group. The second venue was a slightly posh bar nearby (the waiters had bowties, if I recall correctly). Hide-san joined us there, and the Guiness was flowing quite freely. The evening was rounded off back at Chie's friend's flat, where more alcohol was consumed, I appeared to fall into my standard rant about the English class system, and I don't think I got to sleep until after 4AM.



Comment 1
Did you stay in the Hilton? And get ROOM SERVICE? Club sandwich and a cold Mexican beer? And have your shirts laundered?

Posted by dsp at 2005/08/29 20:11:05.
Comment 2
Isn't it the Imperial Hotel in Tokyo...? A bit of Googling and copy-and-paste and we have:

Listen. You listen to me. You see that city over there? THAT'S where I'm supposed to be! Not down here with the dogs and the garbage and the fuckin' last months newspaper blowing back and forth. I've had it with them, I've had it with you, I've had it with all this! I want ROOM SERVICE! I want the club sandwich. I want the cold Mexican beer. I want a ten-thousand dollar-a-night hooker!! I want my shirts laundered like they do at the Imperial Hotel in Tokyo.

Posted by Johnny Mnemonic at 2005/08/30 08:56:44.
Comment 3
Oh well, it was right enough for you to know what I meant. Perhaps that was the Mexican Beer part.

Posted by dsp at 2005/08/30 11:31:10.
Comment 4
Yes, I'd like to disassociate myself from that earlier poster, who is clearly a pedant.

Posted by John at 2005/08/30 24:57:41.