Miyajima in the Rain
Posted on 2005/08/22 08:47:00 (August 2005).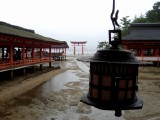 [Sunday 21st August]
Spent the day doing touristy sightseeing type stuff on Miyajima by myself while Chie, Yuka and their parents went to visit relatives on the island. It was absolutely pouring with rain all day, but this didn't actually spoil my day out at all - in fact it was nice to see Miyajima in a different light... It was also great to have a break from the scorching heat of late!
I started off at the famous Itsukushima Shrine, and from there wandered up the hill a bit to the Daisho-in Temple. I'd not been inside either of these places before - what with Chie being almost a resident on Miyajima I don't normally get an opprtunity to do the more touristy type things. I particularly enjoyed the Daisho-in Temple, and made a point for once of really reading through the leaflet thing properly, and at ltrying to know the name and significance of each building I was looking at.
We heade back to the mainland just before 7, and went for dinner in Miyajima-guchi, the little port town from where the ferry to Miyajima goes. Got back to the family's flat around 9ish, and I spent the rest of the evening trying to get my pictures and journal up to date...



Comment 1
Quite taken with the temple sake barrel store .... an idea I will have to investigate for some of my churches here..possibly sherry or whisky barrels ? .... not sure how the PCC will view this proposal .. will probably just confirm their opinion that I am quite bonkers ?

Posted by Rev Nick at 2005/08/22 20:26:55.