Oarai
Posted on 2005/08/12 03:14:45 (August 2005).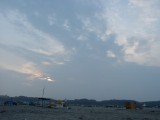 [Tuesday 9th August]
We'd both been wanting to go to Hokkaido for some time, and having dithered about how to get there and so on for what had seemed like weeks, we had finally comitted to getting a ferry from Oarai, a port not too far from Tokyo. The ferry didn't leave until midnight though, so we had a whole day to kill. We'd thought about hanging around in Tokyo, but it was really hot, and we thought perhaps if we went to the sea it might be cooler.
So we left Tokyo just before lunch, and got the train to Oarai. Oarai, it turns out, is not a wholly fascinating place. After arriving we had a bit of a wander, then went and sat on the beach for a bit. We then went back into the "centre" of the town, if cou can call it that, and had some dinner at a slightly frightening noodle/tempura place. It was a bit like the kind of place where the saloon doors swing behind you as you enter, and the piano player stops. We then went to a supermarket to stock up on supplies for our trip, and headed over to the ferry terminal, where we finally boarded our ship some time around 11.



Comment 1
The restaurant was a bit like a pub in Pungbun, then?

Posted by Rob Lang at 2005/08/12 09:02:01.
Post a comment