Miyajima
Posted on 2005/07/23 03:56:14 (July 2005).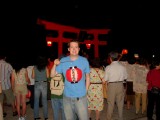 [Friday 22nd July]
Stayed in the flat in the daytime, and didn't really do very much. Towards the end of the afternoon we decided to head over to Miyajima where the Kangensei festival was going to be taking place. I have to admit I didn't really understand the full cultural implications of the festival, it just seemed to have something to do with boats!
We got to Miyajima just before 6, and started off with a quick look at the tori (which just means gate basically) - the last few times I'd been it was high tide, but this time it was low tide, so I was keen to take the opportunity to stand underneath the tori and take some pictures. After this we went for what seemed like quite a long walk to the other side of the island, which no doubt seemed a lot harder than it actually was, because of the heat. We went to the same beach I'd been to before a few weeks previously, only it was a lot quieter this time - maybe because of the time of day. We had a brief swim, and then spent an hour or so lazing around on the beach, drinking beer and eating otsumami (edamame, some kind of nori tempura stuff and some jagariko). This was really, really nice, I felt so relaxed just lolling around here.
After it got dark, we thought we probably ought to go and see something of the festival, so walked back towards the main bit of the island. We were just in time to catch one aspect of the festival - where a load of people holding lanterns beckon the boats into the shore, where a smaller tori and shrine are. This was very nice, and I was particularly pleased at being given my very own lantern with which to do some good solid beckoning. We left Miyajima not long after this, getting the ferry back just before 10.



Post a comment