Miyajima
Posted on 2005/06/02 03:35:50 (June 2005).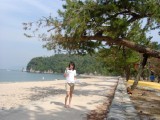 [Sunday 29th May]
Spent the daytime on Miyajima, the famous island just off the coast from Hiroshima where some of Chie's family live. As it was a hot day (by English standards) my main reason for going was to visit the beach and have a swim... Although it wasn't until I got there that I realised I would be doing this alone - apparently it was still too cold for the Japanese to swim in the sea. It's been quite a while since I've had a good dip in the sea, so this was really great. Afterwards went for a bit of a walk, and visited some of Chie's family on the island. Headed back to the mainland around 6ish, and spent the rest of the evening back at the flat. Had sort of roast potatoes for dinner (it's a Sunday) cooked with some really excellent rosemary we'd taken from Chie's aunt's garden on Miyajima.



Comment 1
Now you see, that's what I like... The neat parking of Deer. You don't get this envirnmentally friendly approach back in the UK where Deer just roam about, willy-nilly. Panicking at the first sound... If they just learned to line up and park how much easier it would be for all...

Posted by Nigel at 2005/06/02 11:46:52.