Out
Posted on 2005/07/04 21:04:16 (July 2005).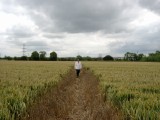 [Monday 4th July]
Spent the morning feeling inexplicably quite irritable, but the situation improved after lunch, which was largely down to getting out of the house I think. Went for a really nice walk with Mum down in the meadows at the edge of the village, where apparently linen used to be grown and worked with. Despite being beside a big industrial estate, with the powerlines overhead, and the constant din of the A50 in the background, it was really great to be out in the fresh air. Keith and I went for an early drink a little later on, which was also very nice, in a pub in the village I had never actually been in before. Dinner was a broadly oriental affair - Mum and Keith had something Chinese-ish, and I made a Thai green curry which, although I say so myself, came out rather well. Mum tried a tiny little bit, and yelped "BLOODY HELL THAT'S HOT!!!!", which led me to believe I had got it just about right.



Comment 1
Well thank you very much John for checking with me first if you could put my swearing on the net for the world to see.

See you at the graduation tomorrow - shall I bring the bare-bummed photo on the sheepskin rug to put on the giant screen in the marquee.....? What age were you?

Posted by Mum at 2005/07/06 18:16:29.
Post a comment