Aberystwyth
Posted on 2005/06/28 11:03:58 (June 2005).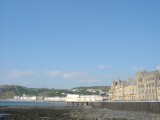 [Sunday 26th June]
Spent the daytime visiting Aberystwyth, where Lucy was going to be doing some nursing training for the next few weeks. It's quite a nice little place actually, and apparently almost half the population are students.
It was quite a varied day all in all. On route to Aberystwyth we stopped off for a wlk in the woods near Dolgellau. We initially met Martin and Lucy near the National Library of Wales. From there we went to some place outside of Aberystwyth for lunch. After that we went for a walk on the beach in Borth, before returning to Aberystwyth for afternoon tea and a walk along the seafront there. Before leaving we check out Lucy's "digs" in the grounds of the hospital. On the way back we stopped off in Barmouth for the classic "bag of chips on the way home".



Comment 1
I used to do tours for prospective students so I can tell you that back in 2001 at least there were around 7,000 students in Aberystwyth and 20,000 people in total. At this time of year however many of the students won't be in Aberystwyth but back at home as something like 3/4 of the students are from England.

Posted by Stephen Paulger at 2005/06/28 14:34:17.
Comment 2
Thanks for the info Stephen! Wow - that was quick - I only posted this entry about four hours ago! Surely it can't have showed up on Google already...?

Posted by John at 2005/06/28 15:15:22.