Bardsey
Posted on 2005/06/25 22:45:39 (June 2005).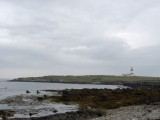 [Saturday 25th June]
A continuation of yesterday's boating theme, as I went for a daytrip to Bardsey island. This was the first time I have been to the island in a few years (since 2000 actually). It was a pretty short visit as it has to fit between the boat coming and going. So we got onto the island about 10:30, and came off again at 2, but still, I managed to have a look at some of my old haunts etc. It's nice to see that most things haven't changed much.



Comment 1
Do you actually have a house there? I don't remember you must have told me something from last time you went to that island... It looks sooo nice from the pictures...

Posted by Lox at 2005/06/27 15:31:41.
Comment 2
No we don't have a house there, but my Dad is part of a charitable trust which permenantly leases one of the houses on the island. So he goes there quite a lot to look after this house, but it isn't his or anything.

Posted by John at 2005/06/27 15:50:07.