Thursday
Posted on 2005/06/24 10:48:37 (June 2005).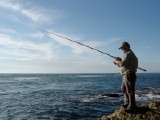 [Thursday 23rd June]
After a morning spent doing final checking and tweaking I sent off my thesis corrections, just after lunch. Hopefully I will hear back on Monday. The deadline for final results if I want to graduate this summer is Wednesday 29th, so (as always) it is looking pretty tight, but, fingers crossed, if all goes well I stand a good chance of being at that ceremony on July 7th wearing a silly floppy hat.
Later on in the afternoon / early evening we went out for a bit to go and visit a very nice beach nearby. I played with Yates on the beach whislt Dad went off to do a spot of fishing. We couldn't find a stick to play with, so resorted to playing with a ball instead. This makes for a much harder game from the human point of view - with a stick you have a fair chance of grabbing it and getting it back off the dog once he's retrieved it, but with a ball you've got no chance. Given that Yates is so highly educated, he is far smarter than your average dog, and many of the usual tricks just don't work on him. His one weakness however, much like Scooby Doo, is dog biscuits. The ball which he'd previously held onto as though his life depended on it suddenly loses all interest to him when presented with something he can actually eat.
Dinner was supposed to be tempura - but in a classic mistake we forgot to buy any oil to cook in. After a bout of "ready steady cook" style thinking between me and my Dad we opted instead to do some mediteranean style roasted vegetables with some pasta, which was actually rather nice. For the first time in what seemed like ages I was actually able to just sit back and relax for the remainder of the evening - lovely.



Comment 1
Mmmmmmmmm I still remember your dad's cooking abilities... Please say hello to him next tim you see him... I think I will add a "Lox' Receipe" branch to the site, with all the inventions that every now and then I make up while cooking... How old isthe dog by the way? I don't think that I have ever met him...

Posted by Lox at 2005/06/25 09:29:34.
Post a comment