Visitors
Posted on 2005/06/12 15:15:15 (June 2005).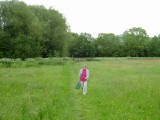 [Saturday 11th June]
When I was young boy, perhaps about five years old, I remember walking along a street in a place called Usk (not far from Abergavenny) with Vera and finding a bundle of feathers - perhaps a bird's wing. At the time I was fascinated with it and had to pick it up. Vera was none too happy about this at the time, I recall, and insisted I put it back down again and wash my hands. Today, in the morning, we decided we would walk to the Waitrose on the outskirts of Abergavenny. En route, as Vera and I were walking along the street, I spotted another feather. I was fascinated with it again, and really tempted to pick it up. I couldn't help but smile as this particular childhood memory came back to me.
Anywho, after a very nice walk through the meadows in Abergavenny to get to Waitrose, we did some shopping and then got a taxi back. The rest of the day was occupied with a steady stream of visitors, which was really nice. Lucy and Martin popped round in the afternoon for coffee and cake, and a nice chat. Martin showed me his site, with some really great pictures of a wedding he's just done. Actually the bride was a friend of Lucy's, so I knew quite a lot of the people in the pictures.
In the evening Louise and Ian came round for dinner. We wanted to keep things simple, so just did a sort of light buffet type thing, with some pizza. I made a tiramisu for dessert, for the first time without the recipe, which came out OK.



Post a comment