Shinjukugyoen
Posted on 2005/05/30 05:04:04 (May 2005).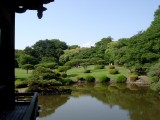 [Thursday 26th May]
Checked out of our hotel about 10AM, and spent the morning doing a spot of shopping around Shinjuku. I bought a new shirt to keep the sun off a bit. Chie had an interview in the afternoon, so I decided to go and wile away the time in Shijukugyoen - Shinjuku Central Park. I'd been before on my previous trip to Tokyo, but we'd been towards the end of the day and so had to rush round a bit. This time I had a lot longer to relax and breathe it all in. It is probably my favourite place in Tokyo (with the possible exception of Watanabesan's excellent Quercus Bar) as feels like a million miles away from all the overcrowding of Tokyo's streets and public transport. I sat for quite a while to start with in the English style gardens, listening to my MP3 player and supping coke (which I think ought to be renamed gaijin-cha) and nibbling on junk food. After a bit of this I got up and went for a wander around the Japanese bits etc, before eventually heading back to Shinjuku station to meet up with Chie at 4pm.
On the way back to Hiroshima we decided to break up our journey and stop off around Kyoto to go and visit Dale and Erina. Spent a great evening nattering away with Dale about life in Japan, whilst drinking sake, and before we knew it it was 4:30 in the morning. Poor old Dale had to go to work the next morning!



Comment 1
To quote Lox:

SHIT ON ME, he'e ALIVE!

/john/pictures/TravellingAbout/thumbs/SANY0089.jpg

Posted by Rob Lang at 2005/05/31 15:23:17.
Comment 2
Yes Rob, he is very much alive and kicking! I feel a bit like that explorer who went to Africa to find the missing Dr. Livingstone. I can't help but feel sorry him actually - "Dr. Livingstone, I presume." is one of the most famous quotes in the English language, and yet people only know the name of the person it was said to, not the actual person who said it. In Hindsight, he really ought to have worked in a "Oh and by the way, my name is Harold Smith (or whatever), pleased to meet you".

Posted by John at 2005/06/01 04:21:02.